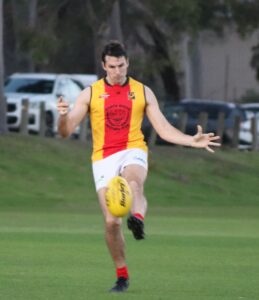 Officially the Perth Football League finals series starts in about a month from now.
In reality, it starts tomorrow for the O'Rourke Realty A-Grade team – and others – as they step up the intensity in the quest for success.
Wonderful platforms have been laid by many of the club's teams, but now the focus begins to sharpen with the A-Grade team playing three finals rivals over the next three weeks, starting with the challenge of confronting Kingsway at Kingsway Reserve (please note the 1.10pm start).
There's not much point looking any further ahead than this match, but in ensuing weeks the Beach will also play Trinity Aquinas and University, two accomplished sides in the mix for A-Grade honours.
Kingsway currently sit in third position, but it is something of a concertina between third and sixth, with three clubs – Kingsway, Fremantle CBC and University  – all sitting on seven wins, with Trinity Aquinas nipping at their heels one game back.
So we can expect Kingsway to play with great intensity with so much on the line.
Not that North Beach does not have a little skin in the game too, needing to win to ensure they maintain top position on the table and the chance to secure a break at the end of the qualifying rounds and a home second semi-final.
The Lifenet A-Reserves are virtually guaranteed top spot, with a two-game cushion and a healthy percentage advantage over Curtin University-Wesley.
The Plasterwise Phil Scott Colts are also in a tight race for positions within the eight and can expect a tough contest with Kingsway while the Indian Ocean Hotel Brett Jones Colts face a match-up with potential elimination final rivals Collegians.
Victory for them is imperative to meet their designs on pushing higher up the table in the closing weeks.
The Hybrid Linings C5-Grade and the Beast Carpet Cleaning C5-Reserves are both unbeaten, but will start to fine tune their methodology against North Fremantle at Gil Fraser Reserve.
The Maggies are always a challenge particularly on their home deck and after three lop-sided rounds, where 100 point victories were racked up, the third and fourth grade teams will see no harm in locking horns with a far more competitive foe.
The GJ Osplumb E2-Grade are sitting in third spot and   have the chance to consolidate when they host Kingsley at Charles Riley Reserve.
The Project Ceilings A-Grade women have made strong ground over the course of the season and will be looking to finish the season powerfully, starting with a home game at Charles Riley Reserve against Nollamara.
Fixtures
Saturday, July 31
O'Rourke Realty A-Grade
Kingsway v North Beach, Kingsway Reserve, 1.10pm
Lifenet A Reserves
Kingsway v North Beach, Kingsway Reserve, 11.20pm
Plasterwise Phil Scott Colts
Kingsway v North Beach, Kingsway Reserve, 9.30am
Hybrid Linings C5-Grade
North Fremantle v North Beach, Gil Fraser Reserve, 2.40pm
Beast Carpet Cleaning C5 Reserves
North Fremantle v North Beach, Gil Fraser Reserve, 12.50pm
Indian Ocean Hotel Brett Jones Colts
North Beach v Collegians, Charles Riley Reserve, 11am
Project Ceilings A-Grade women
North Beach v Nollamara, Charles Riley Reserve, 9.30am
Peak Body C4-Grade women
Curtin University-Wesley v North Beach, South Oval, 9.30am
Beyond Tools E2-Grade
North Beach v Kingsley, Charles Riley Reserve, 2.40pm
GJ Osplumb E3 Grade
North Beach v Carlisle, Charles Riley Reserve, 12.50pm
Grange Residential Integrated Rules
North Beach v Kelmscott Bulldogs, Charles Riley Reserve (2), 11.15am