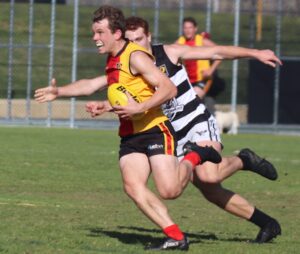 And just like, it's done!
Months of preparation, toil and determination from the O'Rourke Realty A-Grade came down to one game and unfortunately North Beach could not match the skill and commitment of North Fremantle.
It meant that a season that at times promised so much, ended in bitter disappointment – this match perhaps a reflection of the season itself.
The Beach started enterprisingly, lost momentum mid-match, and was without cohesion at the end. It did not help that three significant injuries occurred during the game – experienced forward Andrew McGuinness (dislocated elbow) was out of action after only a few minutes, young defender Cam Hoskins (ankle) did not resume after half-time and midfielder Arran Goddard-Nash (knee) was finished before three-quarter time.
Cut-throat finals are tough to win at the best of times, let alone with good men down.
The injuries are not an excuse because North Fremantle played a better brand of football, the Beach did not use the ball well enough, particularly entering the attacking 50 metre arc where the Maggies had spare numbers.
So often possession of the footy was wasted by poor decisions or execution and that was the catalyst for the Maggies to work their way back into the game after the Beach enjoyed the early ascendancy.
Through players like Matt Irvine, Blake Piggott, Liam Catalfamo and Sam Lamont, the Beach made a bright start and the pressure acts of skipper Mitch Dwyer were important, but as a collective they could not sustain the effort.
After holding a three-point advantage at the last change, the Beach could not withstand the effort from North Fremantle and eventually lost by 16 points – 9.10 (64) to 7.6 (48).
Earlier in the day the Plasterwise Phil Scott Colts received a timely reminder that the intensity rises in finals football when they were out-pointed by Fremantle CBC, 7.7 (49) to 2.4 (16) in the qualifying  final.
After struggling to get into the game in the first half, the Beach rallied in the third quarter but not yield an appropriate return on the scoreboard for their control in general play.
Down by two goals at three-quarter time, they needed to attack through the western side of McGillivray Oval where a solid north-westerly breeze prevailed. On occasions they ventured down that wing, but could not create goal-scoring opportunities.
Caden Eaton was starved of supply, but kicked his team's only two goals while Jack Stevens produced a courageous and committed effort, with other strong contributions coming from Blake Sawyer and Madoc Plane.
The colts live to fight another day and will play the first semi-final this week. They made the challenge tougher, but it's not impossible.
O'Rourke Realty A-Grade
Elimination Final
North Frem         0.4          1.7          4.9          9.10        64
North Beach       3.3          3.5          5.6          7.6          48
Goals – North Beach: Bottechia, Leishman 2; Witheridge, Goddard-Nash, Campbell.
Best – North Beach: M Irvine, Stott, Dwyer, Lamont, Gill, Piggott, Cranley.
Plasterwise Phil Scott Colts
Qualifying Final
Frem CBC             1.1          4.5          4.5          7.7          49
North Beach       1.1          1.1          2.4          2.4          16
Goals – North Beach: Eaton 2.
Best – North Beach: Stevens, Plane, Eaton Hopkins, Clinch, Sawyer.