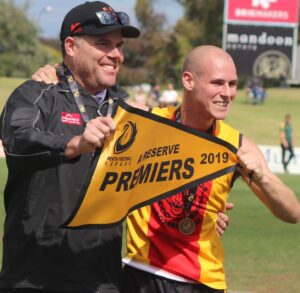 Grand finals, particularly tight ones, are generally truncated by key moments.
When the Lifenet A-Reserves reflect on the grand final triumph over University at Steel Blue Oval on Saturday, they could cite several plays that in isolation might not mean a lot but as a collective they spelt p-r-e-m-i-e-r-s-h-i-p.
Like the moment when experienced defender Ben Sweeny decided to peel off his opponent, ran 30 metres to create a contest and thwart what appeared to be a certain goal.
Like the moment when Nick Baroni kicked his team's first goal, deep into the opening term, pulling the margin back within a manageable 15 points after the Scholars had controlled the opening stanza.
Like the moments, within minutes of each other that emerging young utility player Oskar Tothill, committed to two contests with remarkable contests, taking one spectacular mark and halving another duel which he had no right to impact.
Like the moment in the middle of the last quarter when Nick Wells, from deep on the half-forward flank, the wrong side for a left-footer (unless you're Buddy Franklin), slotted a major that propelled his team to a 14-point advantage.
All of those moments – and a few others – combined to give coach Scott Holbrook and the Beach their third successive premiership at this level – winning 10.7 (67) to 5.5 (35).
There were also some wonderful sub-plots, like the effort of Wells winning best on ground honours with a brilliant display on a wing. This performance came when his season had looked over before it began, dislocating a shoulder in the opening minutes of the first practice match against Wembley.
He was pivotal to the revival after quarter-time and then helped to put the collective foot down after trailing at half-time to lock away a remarkable hat-trick.
In conjunction with captain Nick Bowe, the competition's fairest and best player, and Adam Swain, who have each played in triple premierships, Josh Stott and Peter Hiotis, who was pivotal to keeping the Beach in the hunt during the initial University onslaught, the Beach gained midfield control.
Tim Edwards and Ben Johnson were impactful while the courage of Nathan Torre was inspiring. He dislocated his shoulder in the third term, had it strapped and returned before having it pop out again when tackling in the last stanza.
Ruckman Tom DeCourtenay produced his trademark effort in the ruck, Jordan Brooks, who kicked four goals in the 2018 version, was dangerous up front and kicked three goals in this match to be a constant menace to the Uni defence.
In defence, Sweeny had strong allies through Cam Hoskins, Brennen Irvine and Matt Murray while Matt Holden was typically tough in the contest.
It was a measured team performance, collectively holding their nerve in the face of the energised start from the Scholars before taking control and powering to a five-goal triumph.
That victory, combined with the Plasterwise Phil Scott Colts triumph, elevated the club to fourth on the all-time Perth Football League (WA Amateur Football League) premiership list.
Lifenet A-Reserves
Grand Final
North Beach       1.3          3.3          6.6          10.7        67
University           3.1          4.3          5.3          5.5         35
Goals – North Beach: Brooks 3; Foley, Cameron, Adler, Tothill, N Wells, Baroni.
Best – North Beach: N Wells, Swain, Hiotis, B Irvine, Sweeny, Bowe, Tothill, Brooks.