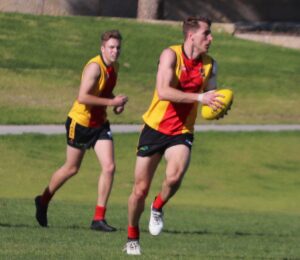 Star midfielder Dan Leishman earned a richly-deserved place on the club's glittering honour board when he won the Brian Kiely Medal as the A-Grade club champion for 2019.
In front of a packed house at Charles Riley Reserve, the athletic Leishman was rewarded for an outstanding year when he also tied as the leading goal-kicker with Ryan Ekert, by topping the poll.
The recognition for Leishman was the highlight of a night when the high achievers in all grades were recognised and tireless North Beach servant Adam Thewlis was also in the spotlight, winning the revered best clubman award.
A Grade 2019 Medal Winners
| | | | |
| --- | --- | --- | --- |
| Medal Colour | Grade | Award | Winner |
| Gold | A Grade | Brian Kiely Medal Fairest and Best | Daniel Leishman – 112 Votes |
| Silver | A Grade | Runner Up Fairest and Best | Kyle Cranley – 81 Votes |
| Gold | A Grade | Leading Goal Kicker | Ryan Ekert – 24 Goals |
| Gold | A Grade | Leading Goal Kicker | Daniel Leishman – 24 Goals |
| Silver | A Grade | Players Choice | Austin Sheard |
| Silver | A Grade | Rising Star | Liam Catalfamo |
| Silver | A Grade | Values of North Beach | Mitch Dwyer |
A Reserve 2019 Medal Winners
| | | | |
| --- | --- | --- | --- |
| Medal Colour | Grade | Award | Winner |
| Gold | A Reserve | Fairest and Best | Benjamin Sweeny – 65 Votes |
| Silver | A Reserve | Runner Up Fairest and Best | Nicholas Bowe – 61 Votes |
| Gold | A Reserve | Player of the Finals | Oskar Tothill – 14 Votes |
| Gold | A Reserve | Leading Goal Kicker | Nathan Adler – 51 Goals |
| Silver | A Reserve | Best Team Man | Mathew Holden |
| Silver | A Reserve | Most Improved | Nathen Torre |
D1 Grade 2019 Medal Winners
| | | | |
| --- | --- | --- | --- |
| Medal Colour | Grade | Award | Winner |
| Gold | D1 Grade | Fairest and Best | Craig Hall – 101 Votes |
| Silver | D1 Grade | Runner Up Fairest and Best | Liam Pardini – 63 Votes |
| Gold | D1 Grade | Player of the Finals | Caolan O'Connell – 25 Votes |
| Gold | D1 Grade | Leading Goal Kicker | Joshua Cameron – 37 Goals |
| Silver | D1 Grade | Most Consistent | Jacob Desmond |
| Silver | D1 Grade | Rising Star | Aran O'Connell |
D1 Reserve 2019 Medal Winners
| | | | |
| --- | --- | --- | --- |
| Medal Colour | Grade | Award | Winner |
| Gold | D1 Reserve | Fairest and Best | Tyler Hurley – 83 Votes |
| Silver | D1 Reserve | Runner Up Fairest and Best | Liam Hunter – 65 Votes |
| Gold | D1 Reserve | Player of the Finals | Robert McComiskie – 18 Votes |
| Gold | D1 Reserve | Leading Goal Kicker | Jaxon Lloyd – 23 Goals |
| Silver | D1 Reserve | Best Positional Player | Xavier Williamson |
| Silver | D1 Reserve | Most Consistent | Samuel Cahill |
E1 Grade 2019 Medal Winners
| | | | |
| --- | --- | --- | --- |
| Medal Colour | Grade | Award | Winner |
| Gold | E1 Grade | Fairest and Best | Tjaard Tait – 81 Votes |
| Silver | E1 Grade | Runner Up Fairest and Best | Jay Allison-Green – 74 Votes |
| Gold | E1 Grade | Leading Goal Kicker | Brayden Bowden – 23 Goals |
| Silver | E1 Grade | Most Consistent | Michael Dodd |
| Silver | E1 Grade | Best Utility | David Gelle |
| Silver | E1 Grade | Most Improved | Jacob Willis |
E3 2019 Medal Winners
| | | | |
| --- | --- | --- | --- |
| Medal Colour | Grade | Award | Winner |
| Gold | E3 Grade | Fairest and Best | Joel Gray – 91 Votes |
| Silver | E3 Grade | Runner Up Fairest and Best | Mitchell Clarke – 87 Votes |
| Gold | E3 Grade | Player of the Finals | Joel Gray – 30 Votes |
| Gold | E3 Grade | Leading Goal Kicker | James Winterton – 20 Goals |
| Silver | E3 Grade | Most Consistent | Jake Marchin-Vincent |
| Silver | E3 Grade | Best First Year Player | Tim Harewood |
Phil Scott Colts 2019 Medal Winners
| | | | |
| --- | --- | --- | --- |
| Medal Colour | Grade | Award | Winner |
| Gold | Phil Scott Colts | Fairest and Best | Madoc Plane – 108 Votes |
| Silver | Phil Scott Colts | Runner Up Fairest and Best | Caiden Eaton – 89 Votes |
| Gold | Phil Scott Colts | Player of the Finals | Madoc Plane – 31 Votes |
| Gold | Phil Scott Colts | Leading Goal Kicker | Caiden Eaton – 25 Goals |
| Silver | Phil Scott Colts | Outstanding Leadership | Jack Merson |
| Silver | Phil Scott Colts | Most Consistent | Judd Clinch |
Brett Jones Colts 2019 Medal Winners
| | | | |
| --- | --- | --- | --- |
| Medal Colour | Grade | Award | Winner |
| Gold | Brett Jones Colts | Fairest and Best | Connor Pollard – 72 Votes |
| Silver | Brett Jones Colts | Runner Up Fairest and Best | Flynn Rose – 56 Votes |
| Gold | Brett Jones Colts | Leading Goal Kicker | Mason Rollo – 29 Goals |
| Silver | Brett Jones Colts | Most Courageous | Joshua Roberts |
| Silver | Brett Jones Colts | Biggest Weapon | Cameron Emery |
| Silver | Brett Jones Colts | Best Team Player | Chris Gamble |
Galleria Toyota A grade Women's team – 2019 Medal Winners
| | | | |
| --- | --- | --- | --- |
| Medal Colour | Grade | Award | Winner |
| Gold | A Grade Women | Fairest and Best | Sally Ford – 105 Votes |
| Silver | A Grade Women | Runner Up Fairest and Best | Tessa Anderson – 88 Votes |
| Gold | A Grade Women | Leading Goal Scorer | Sarah Cosoleto – 14 Goals |
| Silver | A Grade Women | Most Consistent | Taylisha Brown |
| Silver | A Grade Women | Most Improved | Stephanie Ball |
| Silver | A Grade Women | Best Team Player | Emily Sainty |
Clubman of Year: Adam Thewlis
I-Grade Players
Toby Anscombe                                                                                         Reece McIntyre
Rueben Bezuidenhout                                                                               Julian Miller
Matt Blevins                                                                                                Ben Morley
Harold Corbett                                                                                            Kieran Murphy
Sean Cutrona                                                                                               Jake Parrotte
Taj Denham                                                                                                 Benjamin Pieters
William Donner                                                                                          Conor Rowan
Lily Goedsir                                                                                                  Samuel Rowan
Nick Hart                                                                                                       Yash Shah
Ben Henson                                                                                                  Rory Sweeney
Jordan Hill                                                                                                     Liam Williams
Blake Mountfort                                                                                          James Wright
Christopher Willers
Jarrad Johnson
Mailey Kelly
Max Letizia