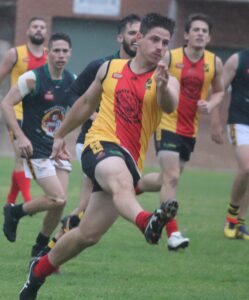 The qualifying rounds of a football season are multi-faceted.
They are in place so the better teams in the competition rise to the top and qualify for finals. And for those who are good enough to visualise premiership success it's about sizing up the opposition standing in the way of that dream.
The Hybrid Linings North Beach D1-Grade got a good look at another major premiership contender on the weekend and while they came up short, there were some mental notes taken on how to reverse that result some time into the future.
After a relatively 'soft' start to the season, the Beach has had a challenging string of matches against other teams they are likely to meet in the finals series.
On Saturday it was Fremantle CBC and the young Tigers were well beaten by their more mature, well-drilled opponents.
CBC emerged eight goal victors, but Callan Dunjey was outstanding through the middle with his clearance work and was not afraid to put his body on the line to win the hard ball.
Similarly, down back Aran O'Connell was outsized against the CBC key forward but constantly put himself between the ball and his opponent and kept him to just one contested mark.
Craig Hall continued his incredible season and is leading by example as captain,and the older heads in Mark Foreman, Michael Duckworth and Matt Power tried their best to lead their younger teammates with acts of desperation and aggression.
Earlier the Coast to Coast Imports D1-Reserves put in a classy performance to eclipse CBC by 23 points.
Led by Khalil Campbell through the midfield and forwards Adam Miotti, Sam Zehnder and James Brice, the Beach carried too much fire-power and produced a highly impressive performance.
Jaxon Lloyd also continued his good from, along with Brody Hinkley and Liam Hunter.
The Indi Bar Brett Jones continued their impressive run of success, extending their winning sequence to seven successive matches, with an authoritative 80-point win over Swan Athletic.
With regular captain Zac Salleo called up to the Phil Scott Colts, Ben Pedulla stepped up to the plate and provided great leadership all day. He quickly rallied the boys after a sluggish start to see the Beach establish a three-goal advantage at the first break.
As the day went on, the North Beach forward line really started to click into gear and benefited from some beautiful supply from the midfield. Tom Dix racked up a heap of the footy in his first game as a rover and Alex Thompson got back to his best with a classy performance in the engine room.
Flynn Rose and Mason Rollo were brilliant again with four goals each. Next up, it's Whitfords and the chance to make amends for a narrow loss in the opening round.
After a solid start the Beyond Tools E1-Grade found challenge of Swan Athleic on their home deck to be insurmountable, going down by five goals.
The Beach made an enterprising entry to the contest, but let themselves down with skill errors and poor decisions which opened the door for the opposition.
The Tigers were in the game throughout, but were not quite good enough. They sit 5-4 midway through the season and have a chance to do some damage later in the year.
Jamie Cosgrove, Cam Alco, Rob McComiskie, TjaardTait, Michael Dodd and Jacob Wills were all strong contributors for the Beach.
The GJ Osplumb E3-Grade had an absorbing battle with Carlisle before going down by 16 points.
Again, the Beach were well-served by John Fryer, Mitch Clarke ,Chris Gamble, the ultra-consistent  Jake Marchin-Vincent and Mark Ferreri.
Hybrid Linings D1-Grade
Frem CBC             1.2          4.3          8.3          12.5        77
North Beach       1.0          2.0          3.1            4.2        26
Goals – North Beach: Power, Coleman, Hart, Foreman.
Best – North Beach: Dunjey, A O'Connell, Hall, Foreman, M Duckworth, Power
Coast to Coast Imports D1-Reserves
North Beach       2.0          6.2          8.4          10.6        66
Frem CBC             2.3          2.5          4.6            6.7        43
Goals – North Beach: Miotti, Zehnder, Brice 2; McGuire, M Langsford, Evans, K Campbell.
Best – North Beach: Lloyd, B Hinkley, Hunter.
Indi Bar Brett Jones Colts
North Beach       5.1          11.1        16.2        18.6        114
Swan Athletic     2.0            2.2          3.2          5.5          35
Goals – North Beach: Rose, M Rollo 4; Osborne, Thompson 2; Hodge, McPhee, Mortimer, Irvine, Kuppens, Hambleton.
Best – North Beach: Thompson, Rose, Dix, M Rollo, Roberts.
Beyond Tools E1-Grade
Swan Athletic                                                     10.10     70
North Beach                                                         6.10     46
Goals – North Beach: Cosgrove 3; Manea, Alco.
Best – North Beach: Tait, Cosgrove, McComiskie, Dodd, Wills, Alco.
GJ Osplumb E3-Grade
Carlisle                                                                  8.16        64
North Beach                                                       6.10        46
Goals – North Beach:
Best – North Beach: Fryer, M Clarke, Gamble, Marchin-Vincent, Ferreri.