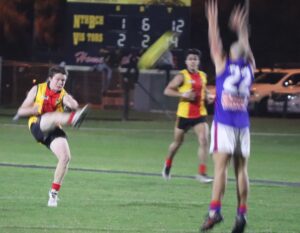 The Plasterwise Phil Scott Colts christened the new lights at Charles Riley Reserve with a gritty six-point win over Kingsley last night.
In an entertaining encounter, in front of a large and enthusiastic crowd, the Beach endured 6.9 (45) to 5.9 (39) after David Purser kicked a deadlock-breaker with two minutes to play in the final term.
Kingsley, who went into the contest winless, produced a spirited performance and threatened to upset the hosts until the Beach found a way to break through.
The game-changing move, after Kingsley had controlled the game in the second and third quarters, came when Judd Clinch was thrust into the ruck. He won a number of contests at stoppages but also had a decisive impact around the ground.
Travis Burton put his head over the ball at crucial times – not without consequence in the second term when he came off the ground with a towel to a nose that dripping claret.
Jackson Martino was solid across half-back, Purser's two goals at either of the game were crucial in a low-scoring arm wrestle, while Callum Corbett and Stratton Sragant were also influential.
The game created a pulsating climax, but could easily have been locked away in the first term when the Beach squandered a number of gilt-edged opportunities in front of goal. They kicked six points before Purser converted on the run deep into the first term.
Ben Wasley provided a strong target up forward, but failed to reap the deserved return on the scoreboard after taking some outstanding grabs.
Details
Plasterwise Phil Scott Colts
North Beach       1.6          2.7          4.8          6.9          45
Kingsley               0.2          3.5          5.6          5.9          39
Goals – North Beach: Purser 2; Wells, Thomas, Plane, Cahill.
Best – North Beach: Clinch, Burton, Martino, Sargant, Corbett.