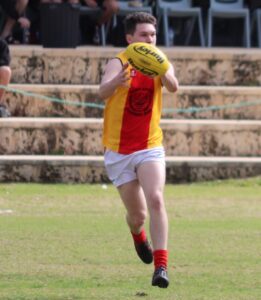 Not sure who it was who coined the phrase that a week is a long time in footy, but whoever came with it was a visionary.
In round five the Hybrid Linings C5-Grade played Wanneroo and were expected to be comprehensive victors at home. Seven days later they traveled to Hamer Park to play Mt Lawley and waltzed through with a 20-goal triumph. Go figure.
Against the Hawks, they opened with a seven-goal blitz, dominated throughout and won 24.9 (153) to 5.3 (33).
The outstanding individual performance was a nine-goal bag for Jordan Brooks, but Jayden Black also continued his stellar season and marshaled his younger midfield troops magnificently.
They were able to control the stoppages due to the ruckwork of Tom DeCourtenay and were then able to feed the runners in Craig Hall, Kahlil Campbell and Nathan Torre.
Once the ball entered the forward 50 it was a literal feeding frenzy as Brooks capitalised to kick 9.1, Sam Zehnder continued his strong start to the season with another four goals and Brayden Quinn also kicked four in his first game of threes for the season.
The pattern of the day was set earlier when the Beast Carpet Cleaning C5-Reserves were even more ruthless against the Hawks, winning 26.19 (169) to 1.1 (7). Mt Lawley didn't even bother the scorers until the final term.
Mitch Cameron bagged a massive 13 goals, capitalising on the wave of opportunities. The Beach was  just too much for them from the get-go, with Cameron kicking five in the opening stanza to get the day rolling.
The midfield group led by Ryan Clapham in the ruck and Fletcher Cooke, Joel Brown and Liam Hunter beat their opponents all day. Josh Tickner, Liam Vardy and Gregory Jongenelis cleaned up down back when the ball made it their way.
The Indian Ocean Hotel Brett Jones Colts rebounded strongly and set the tone with an outstanding first quarter against Kingsway, as they marched to victory – 18.12 (120) to 5.4 (34
The effort continued in the second quarter, but the Beach struggled to capitalise on the advantage of a strong wind pushing across the ground, but piled on 10 goals in the second half.
There was a good spread of players who scored with 9 goal scorers, Mark Craig weaving his magic for a second week in a row with five goals in the second half.
Wilbur Huggins kicked his first major for the year, a moment the team celebrated enthusiastically. Outstanding performers included Lachie McCleod, Charlie Cortese and Matt Kingham.
The Beyond Tools E2-Grade produced one of their best efforts of the season in carving out a methodical victory against Curtin University-Wesley, holding the Tigers goal-less after half-time to lock away victory, 10.10 (70) to 3.6 (24).
Donal Ryan was again a key contributor, along with Lucas Gardiner, Dean Wilson, Lucas Osborne and Mark Sadler.
The GJ Osplumb E3-Grade found Wembley a little too talented and were beaten 13.13 (91) to 1.2 (8).
Kellie Holden, a stalwart of the North Beach women's program, produced a stellar performance to pilot the Project Ceilings A-Grade to a 55-point win against Nollamara.
Holden kicked four goals in a quality display and in conjunction with Jasmine Hunneybun, who has been in brilliant form, Ellen Duncan, another feature of the North Beach program throughout its three years, Georgia Rath, Clare Dickson, Rachelle Jones and Kate Shearman were all shining lights.
The Peak Body Fitness C4-Grade women also had some good moments but found Curtin University-Wesley too classy on the way to a 6.6 (42) to 1.0 (6) defeat.
Details
Hybrid Linings C5-Grade
North Beach       7.2          11.6        18.7        24.9        153
Mt Lawley           1.0          3.2          4.3           5.3          33
Goals – North Beach: Brooks 9; Zehnder, Quinn 4; Bennett, Campbell, Rollo 2; Miotti, Corbett.
Best – North Beach: Brooks
Beast Carpet Cleaning C5-Reserves
North Beach       8.3          13.7        19.10     26.13     169
Mt Lawley           0.0            0.0        0.0         1.1             7
Goals – North Beach: M Cameron 13; J Cameron 3; Cooke, Cahill 2; Luck, McAuliffe, Goodin, Samuels, Lang, Quinlan.
Indian Ocean Hotel Brett Jones Colts
North Beach       5.2          8.5          13.8        18.12     120
Kingsway             1.1          1.3          5.4         5.4         34
Goals – North Beach:  McLeod, Cortese, Kingham.
Beyond Tools E2-Grade
North Beach       3.4          5.5          8.7          10.10     70
Curtin-Wesley   1.0          3.0          3.3          3.6         24
Goals – North Beach: Ryan 3; Ingleby 2; Bowden, Franklin, Gardiner, Williamson, Kuppens.
Best – North Beach: Ryan, Gardiner, Wilson, Osborne, Sadler.
GJ Oslpumb E3-Grade
Wembley            2.0          5.6          9.9          13.13     91
North Beach       1.1          1.1          1.1          1.2          8
Project Ceilings A-Grade Women
North Beach 9.8 (62) def Nollamara 1.1 (7)
Goals – North Beach: Holden 4; Turner, Elliott 2; Hunneybun.
Best – North Beach: Hunneybun, Duncan, Dickson, Jones, Holden, Shearman.
Peak Body Fitness C4-Grade women
Curtin University-Wesley 6.6 (42) def North Beach 1.0 (6)