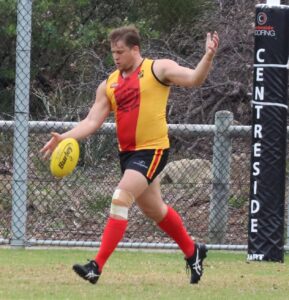 Sometimes in sport it is possible to become a victim of you own success.
That dominating matches and winning softly can on occasion be counter-productive. After a string of thumping wins – between 25 and 30 goals – the Hybrid Linings C5-Grade and the Beast Carpet Cleaning C5-Reserves knew North Fremantle would a much tougher nut to crack.
And so it transpired.
The C5-Grade were in early trouble against the Maggies at Gil Fraser Reserve, but fought back to salvage two points while the C5-Reserves had a few moments as well, before showing too much class for the opposition.
The first quarter was an arm wrestle for the threes, both sides coming to grips with the greasy conditions underfoot. Unfortunately, in the second term, the Beach intensity fell away dramatically and North Fremantle piled on five goals in 10 minutes.
After half-back time the running power of the Beach kicked in and they slowly pegged back the margin until, with seven minutes remaining, they were 18 points down.
The Magpies crowd was feeling confident and vocally letting the boys know all about it, but the Beach midfield and forward line clicked for the first time in the game and they banged on three unanswered goals.
The last of them was a great snap by skipper Craig Hall. While the Beach thought they had endured by a point, scores were confirmed at 6.9 (45) apiece when goal umpires conferred post siren.
Great character was shown in those dying minutes which can only bode well for the threes' finals campaign. Throughout the day, the backline was superb and apart from those five goals in the second quarter, held North Freo to just one goal in three-and-a-half quarters.
Leading from the front were Matt Holden and Jamie Bennett who both constantly repelled the ball and were also strong performers when thrown in to the midfield. Shane Duckworth and Riley Hinkley were superb in the key forward posts while Jayden Black constantly put his body on the line to win the hard ball for his team.
The fourth grade started slowly, a little reluctant to run hard both ways and gave North Fremantle some hope.
But after being challenged at quarter-time they slipped into gear and won 8.14 (62) to 3.0 (18).
Inaccuracy proved frustrating, posting 22 scoring shots to three, but winning by only 44 points. Reef Samuels was brilliant on a wing and across half back, consistently providing us a linking option. Liam Dolling at full–forward had his best game for the year after being challenged at quarter time.
Tully Wickstein, Connor Pollard, Isaac Seidner, Ryan Clapham and Joel Brown also all had strong games.
Finals starts now for the C5 Reserves as they come up against TA's this week who have been the third best side all year. After that we finish the season away to Wesley Curtin who are second placed in a 2020 Grand Final rematch.
The Indian Ocean Hotel Brett Jones Colts scored an important – and convincing win – over finals rivals Collegians, enduring 10.14 (74) to 1.2 (8).
Young coach Darcy Sparks has them ticking along nicely as they build towards the pointy end with players like Campbell Francheschi, Ronan Rose, Louis Marlam, George Mortimer and Cale Vladich leading the charge.
Mortimer was again ubiquitous up forward, kicking five goals.
The GJ Osplumb E2-Grade were again in good form against Kingsley, establishing a winning advantage in the first half and then coasting to an emphatic victory.
They won by 56 points with Fletcher Cooke, Michael Collins and Joel Temm showing the way with polished performances.

The Project Ceilings A-Grade women scored an emphatic victory over Nollamara, a great fillip as they reach the back end of the season.
Always in control through the likes of Clare Dickson and Olivia Hongell, they also had a reliable target up forward with Lana Turner.
As well Isabelle Strover, Kassie Tyers, Ellen Duncan and Elysia Burvill were prominent in what was a polished team performance that netted and 84-point result – 14.6 (90) to 0.6 (6).
Hybrid Linings C5-Grade
North Beach      1.3         2.4         3.6         6.9         45
North Frem        1.1         6.3         6.7         6.9         45
Goals – North Beach: M Cameron 3; DeCourtenay, Brooks, Hall.
Best – North Beach: Holden, Bennett, Duckworth, Hinkley, Cameron, Black.
Beast Carpet Cleaning C5-Reserves
North Beach      0.4         3.9         7.11       8.14       62
North Frem        1.0         2.0         2.0         3.0         18
Goals – North Beach: Dolling 3; Wickstein 2; Dunjey, Goodin, Brown.
Best – North Beach: Samuels, Clapham, Dolling, Brown, Pollard, Seidner, Duncan.
Indian Ocean Hotel Brett Jones Colts
North Beach      4.1         5.6         8.9         10.14    74
Collegians          1.1         1.1         1.2           1.2         8
Goals – North Beach: Mortimer 5; Craig 3; Irvine, Farrell, Cortese.
Best – North Beach: Francheschi, Rosxe, Marlam, Mortimer, Vladitch

Project Ceilings A-Grade Women
North Beach 14.6 (90) def Nollamara 0.6 (6)
Goals – North Beach: Turner 4; Dickson, Del Fante, Tyers 2; Hongell, Hutton, Ellis, Strover.
Best – North Beach: Dickson, Strover, Turner, Tyres, Duncan, Burvill.
Peak Body Fitness C4-Grade women
Curtin University-Wesley def North Beach 0.0 (0)
GJ Oslpumb E2-Grade
North Beach      6.4         10.8       13.13    14.12    96
Kingsley              0.0         3.1          4.2         6.4       40
Goals – North Beach: Maxfield 3; Tobin, Persichitti 2; Cooke, Lawrence, Hingston, Osborne, Kuppens, Morgan.
Best – North Beach: Cooke, Maxfield, Temm, Collins, Tobin, Njegich.
Beyond Tools E3-Grade
Carlisle 11.6 (72) def North Beach 5.9 (39)
Grange Residential Integrated Rules
North Beach      1.0         3.1         3.1         9.2         56
Kelmscott           0.1         1.2         3.3         4.3         27