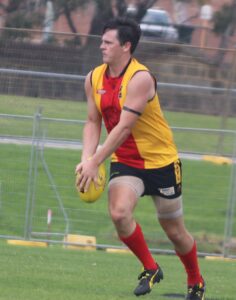 There's a football adage that suggests some players are more adept in the wet than others.
That may well be the case, but few players actually revel on rain-affected tracks. North Beach veteran Andrew McGuinness might just be one of them.
The affable midfielder excelled in the wintry conditions on Saturday and played a leading role in the O'Rourke Realty A-Grade teams' 13-point victory over Trinity Aquinas. He was rock-solid all day, handled the ball more cleanly than virtually everyone else on the ground and was at his best in the biggest moments.
McGuinness stepped up in the middle stages of the second quarter, when the game was tight, and kicked two precious goals before half-time to give the Beach a three-goal cushion.
Then, after there had been an unexpected momentum swing in the third quarter, when the hosts failed to score, McGuinness triggered a match-winning resurgence. He was everywhere, in everything.
In conjunction with Travis Gray, another who enjoyed the slush, Dan Ryan, Dan Leishman and Beau Witheridge through the midfield, they imposed themselves at all the important moments to steer the Beach home – 7.13 (55) to 5.12 (42).
With the defence also holding up, particularly when under siege in the third term, the Beach had the answers. The effort and standard in the back half was set by Tom Hooper, Luke Symonds and Austin Sheard.
It was a brutal, bone rattling contest played in terrific spirit – exemplified when both senior teams provided a guard of honour for the Integrated players who followed them onto the ground, and contended with the worst conditions of the day.
The Lifenet A-Reserves also responded to the challenge from the Boomers before winning 7.8 (50) to 4.1 (25) on the back of a brilliant surge in the second half.
It was a mix of quality performances from both young and a little more experienced players who led the response that saw the Beach kick five goals to two in the second half – in the prevailing conditions it was a dominant display.
Arran Goddard-Nash, who has been in stellar form in the last month, Michael Schofield, Peter Hoitis and Tim Edwards were the more experienced heads who answered the challenge while Brennen Irvine, Oskar Tothill, Matt Murray and Nathan Torre further emphasised their capacity to play senior football.
Theoretically there is no game that is worth any more than another; they are all just worth four points.
If there is an instance where that theory was challenged, then it came when the Plasterwise Phil Scott Colts tackled Trinity Aquinas, holding a two point advantage on the ladder in third position, having drawn a game early in the season against Scarborough.
By carving out an impressive 18-point victory, 9.4 (58) to 5.10 (40), the Beach has created a six point cushion as it strives to lock down the all-important top three finish.
Again Caiden Eaton was a strong focal point up forward, kicking four goals, while Chris Wells was also lively. Mitch Chapman was imposing in the ruck, Connor Boylan and Luke Hopkins were powerful through the middle, while Madoc Plane and Jamie Bennett were ever reliable in defence.
Results, Round 10
O'Rourke Realty A-Grade
North Beach       2.0          6.5          6.5          7.13        55
Trinity Aquinas  1.4          3.4          5.11        5.12        42
Goals – North Beach: McGuinness 3; Cranley 2; Ryan, Johnson.
Best – North Beach: McGuinness, Gray, Hooper, Cranley, Sheard, Symonds.
Lifenet A-Reserves
North Beach       0.4          2.6          4.7          7.8          50
Trinity Aquinas  1.1          2.1          3.1          4.1          25
Goals – North Beach: Edwards 2; Torre, Brooks, B Irvine, Goddard-Nash, Swain.
Best – North Beach: Goddard-Nash, B Irvine, Schofield, Edwards, Torre, Tothill, Murray, Hoitis.
Plasterwise Phil Scott Colts
North Beach       4.1          6.4          8.4          9.4          58
Trinity Aquinas  1.6          1.7          3.9          5.10        40
Goals – North Beach: Eaton 4; Seidner, Davidson, Salleo, Burton, Sawyer.
Best – Eaton, Chapman, Boylan, Hopkins, Bennett, Plane, Wells.