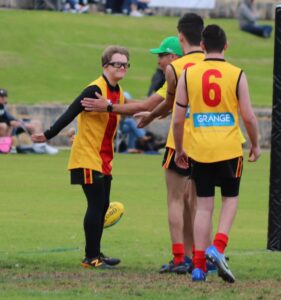 Perspective. And good old fashioned sportsmanship.
Many of the players in the Grange Residential Integrated Rules team aspire to be like those representing North Beach Football Club in all other competitions. They would like be able to run as fast, to be as skilful, to soar high into the air.
They revere their club mates and love being a part of it.
Little do they know that there is so much our club is learning from them; the fun of playing, the sheer joy of belonging to something. And compassion.
On Saturday there was another moment that brought a tear to the eye.
North Beach was playing High Wycombe and the team from up in the hills was a superior outfit. They were more experienced, more advanced and more talented. They had a comfortable lead from the outset.
Towards the end of the third quarter, the Bulldogs led by more than six goals. It could have been greater, but for their sense of fair play.
Just before the three-quarter time siren, North Beach pushed the ball deep towards goal. A High Wycombe player marked it and played on.
He handballed it to Ben Henson, a North Beach player who did not have the athletic qualities to compete with him. It was a deliberate turnover in the goalsquare.
Henson shaped to kick the ball towards his team's attacking arc, away from the goal mouth. But was convinced that he should turn and kick the goal. Umpteen Bulldogs players could have tackled him.
They didn't. They waited as he sized up the opportunity, steadied and slotted it.
It created a moment that Henson – and his family – will always cherish. A beautiful act that represents so abundantly the spirit of this game and this competition. That compassion and understanding cannot be manufactured. It is inherent in the individuals playing the game and is the reason our club is so fortunate to have a team playing in it.
Doubtless there were many such examples in other games across the competition on Saturday. This was no one-off.
We had that heart-wrenching moment and a few minutes before that we had Chris Willers snapping a goal from deep in the pocket that would have been admired at any level. Teammates celebrated wildly. The joy was unbridled.
They talk about diversity in this game. The integrated competition lives and breathes it.
Males and females, teenagers and mature adults, people from backgrounds of all descriptions and abilities. There is no discrimination here. It is, as the competition suggests, integration. It is pure. It is inspiring.
And that moment on Saturday was just another lesson for the rest of us.
To the High Wycombe player, his teammates and his club. Thank you. Not only did it make Ben's day, it made our ours.