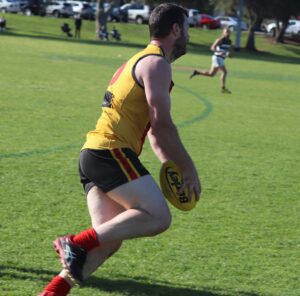 The maturity of the Hybrid Linings D1-Grade was evident when they advanced past the first semi-final showdown with North Fremantle at Charles Riley Reserve (2) on Saturday.
In recent seasons when they have confronted similar opposition, they have occasionally been intimidated. But in front of a large, parochial North Beach crowd they stood their ground and carved out an impressive victory.
Obviously, personnel has changed slightly in that time and there is a more experienced edge to the Beach this year, but they responded to the challenge from their opponents with a convincing 39-point win.
The defensive group controlled the back half for 80 minutes, conceding only three goals for the game on the way to a 9.8 (62) to 3.5 (23) victory.
Liam Pardini continued his excellent season and Shane Duckworth, in his 200th game, and Aran O'Connell held North Fremantle's key forwards superbly.
In the midfield, Ben De Rosa and Alex Coleman jumped all over the two huge ruckman from the Maggies and ran them ragged all over the field. At ground level, Nick Marsh and Jacob Desmond led strongly and stood tall when the game was on the line. Caolan O'Connell, Cameron Alco and Matt Power were influential at the contest in the second half.
In the front half, Josh Cameron snapped out of a couple of quiet weeks with a blistering start to the game, kicking three goals in the first quarter to ensure the opposition were chasing all afternoon.
The Coast to Coast Imports D1-Reserves took the challenge up to the star-studded Curtin-Wesley outfit before eventually falling by 20 points.
The Curtin outfit boasts a number of players who were the cornerstone of a successful A-Grade combination in the not-too-distant past, including the McCarrey brothers, but the Beach took the game up to them in the second semi-final.
Rob McComiskie was typically combative, while Tyler Hurley and Riley Duncan were also influential.
The GJ Osplumb E3-Grade won another elimination final, this time against Piara Waters in blustery conditions.
The Beach has made a habit of slow starts and that was again the case, with Piara kicking out to an early advantage before goals from Steve Clark and the ultra-consistent Jake Marchin-Vincent helped to settle things down.
Losing Jake Hutchison to a suspected serious knee injury was deflating, but also inspired his teammates to get the job done.
An outstanding defensive effort by the Beach into the breeze in the third term set them up for victory. With inside bulls like Josh Veroni and Joel Gray setting the standard, they held the advantage.
Mitch Clarke, Steve Clark and Zac Wood were prepared to take the game on, generating a succession of repeat inside 50 entries while James "Showman" Winterton enjoyed a great moment and Josh Cuzens was also important.
Jacob Willis was influential in the back half while Tim Wood was the Mr Fixit, plugging holes where needed.
Hybrid Linings D1-Grade
First Semi-Final
North Beach       3.2          4.3          6.5          9.8          62
North Frem         1.1          2.3          2.5          3.5          23
Goals – North Beach:  J Cameron 4; Alco, Hall, Marsh, McColgan.
Best – North Beach: Marsh, J Cameron, Pardini, Seaton, C O'Connell, A O'Connell.
Coast to Coast Imports D1-Reserves
Second Semi-Final
Curtin University-Wesley 8.12 (60) def North Beach 6.4 (40)
GJ Osplumb E3-Grade
Elimination Final
North Beach       3.1          4.2          4.6          7.9          51
Piara Waters      3.3          3.4          3.6          6.7          43
Goals – North Beach: Cuzens, P Clark 2; Winterton, Marchin-Vincent, S Clark.
Best – North Beach: Willis, Gray, Cuzens, Marchin-Vincent, Gurney, S Clark, M Clarke.