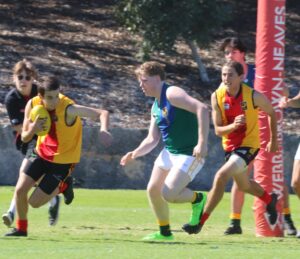 Anyone who plays team sport at any level, plays to win. It's in the DNA, whether that be at the elite or community level.
But there are times and moments that traverse the game itself and there is something much deeper. More tangible.
Something like the Brett Jones Colts match last week involving the Indian Ocean Hotel North Beach team and Kingsway at Kingsway Reserve. It was time to reflect on something much bigger. A poignant reminder of an unsung hero.
Veteran umpire John Omedei, 72, was a man who gave so much to football, particularly at community level and more specifically with the Perth Football League colts.
He was a dedicated club-appointed umpire, without the likes of whom our game could not be played. Unfortunately, on the previous Saturday, John passed away, suffering a severe heart attack while officiating in a colts match at Carine Open Space.
He had been part of the North Beach umpiring panel for a number of years and had also made a significant contribution to Kingsway. As a mark of respect both clubs wore black armbands and observed a minute's silence before the game.
When the game kicked into action, the Beach started strongly with 10 scoring shots in the first quarter, but did not make the most of the opportunities.
In the second term, they were more accurate in front of goal with Jack Quartermaine and Josh Moses proving a deadly combination in the midfield, with Conail McCarthy and Brendan Naylor.
That was a pivotal quarter as the Beach locked away a 57-point win – 14.10 (94) to 5.7 (37).
Jonus Rocke and Mark Craig finished with four goals apiece, while Zach Farrell also showed his class.
Ben Hince soared high in the third quarter and the Beach is building momentum as it eyes off a place in the finals series.
Details
North Beach       4.6          8.6          10.7        14.10     94
Kingsway             1.1          2.1          4.4         5.7         37
Goals – North Beach: Rocke, Craig 4; Farrell 2; Moses, Quartermaine, Butko, Naylor.
Best – North Beach: Rocke, Moses, Quartermaine, Farrell, Hince.