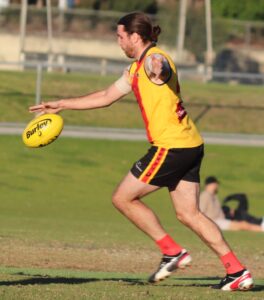 A little more than 12 months ago the O'Rourke Realty North Beach A-Grade played Scarborough in the Perth football League Grand Final.
Tomorrow at Millington Reserve the two clubs will lock horns once more and while the stakes are nowhere near as high, there is still be a big pot in the middle of the table to be won.
The Beach needs to win to ensure they stay at the top of the premiership table while the Sea Eagles must win to remain in the race for finals. Scarborough are currently two games adrift of fifth placed CBC Fremantle, whose upset victory over North Beach hurt both clubs last week.
Scarborough also lost to another team in the top five, Kingsway, who now sit in fourth place.
While the Beach's traditional rivals and neighbours are in eighth place this match promises to be an intriguing battle, with consequences for both clubs.
Curtin University-Wesley, a game behind the Beach but with a superior percentage, will host North Fremantle at South Oval. North Fremantle sit behind both Wesley and Kingsway, just a game adrift in sixth position.
So, in the run home every game is likely to have consequences for the clubs fighting to be a part of the post-season activity
The Beach will also have important matches in the Lifenet A-Reserves and the Plasterwise Phil Scott Colts, while the Hybrid Linings C5-Grade and Beast Carpet Cleaning C5-Reserves will play Wanneroo at Wanneroo.
With the Project Ceilings A-Grade women playing at Piara Waters and the Grange Residential Integrated Rules off to Kelmscott there are only four matches at Charles Riley.
The Peak Body Fitness C4-Grade women open proceedings at 9.30am, followed by the Indian Ocean Hotel Brett Jones Colts, the Beyond Tools E3-Grade and the GJ Osplumb E2-Grade will feature at club headquarters.
The good news for the fifth and sixth grade teams is that they will have an audience larger than normal as ladies day – postponed two weeks ago because of the COVID lock-down – will kick to life in the afternoon.
Hopefully the mood will be electric after wins by the two women's teams!
Fixtures, July 17
O'Rourke Realty A-Grade
Scarborough v North Beach, Millington Reserve, 2.40pm
Lifenet A-Reserves
Scarborough v North Beach, Millington Reserve, 12.50pm
Plasterwise Phil Scott Colts
Scarborough v North Beach, Millington Reserve, 11am
Hybrid Linings C5-Grade
Wanneroo v North Beach, Wanneroo Showgrounds, 2.30pm
Beast Carpet Cleaning C5-Reserves
Wanneroo v North Beach, Wanneroo Showgrounds, 12.30pm
Indian Ocean Hotel Brett Jones Colts
North Beach v Wanneroo, Charles Riley Reserve, 11am
Project Ceilings A-Grade women
Piara Waters v North Beach, Piara Waters Pavilion, 11am
Peak Body Fitness C4-Grade women
North Beach v Warnbro Swans, Charles Riley Reserve (2), 9.30am
Beyond Tools E2-Grade
North Beach v Melville, Charles Riley Reserve, 2.40pm
GJ Osplumb E3-Grade
North Beach v Ballajura, Charles Riley Reserve, 12.50pm
Grange Residential Integrated Rules
Kelmscott Bulldogs v North Beach, John Dunn Memorial Park, 2.45pm