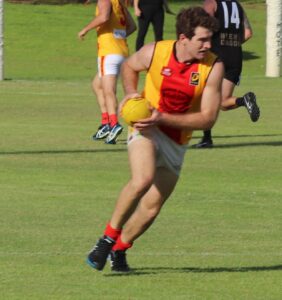 It was renowned author Stephen King who penned then saying 'fool me once, shame on you. Fool me twice, shame on me.'
Hybrid Linings C5-Grade coach Glen Hinkley might well have reminded his charges of that mantra as they prepared to play Wanneroo at Wanneroo Showgrounds on Saturday.
When the two teams confronted each other earlier in the season at Charles Riley Reserve, the undefeated Beach might have been looking for a percentage boost. Mentally, they had ticked it off as a soft kill before going into battle.
What they got was a fair dinkum contest with the bottom-of-the-table Roos and it wasn't until the last quarter that they shook free to win a tight struggle.
There was no chance that was going to happen in the return bout last Saturday.
In the previous fortnight the Roos had beaten University and Curtin-Wesley and had added some talent to significantly add to their depth.
But the Beach responded, playing some of their best football of the season and despite the greasy and muddy conditions, they were simply too classy and too skilful for their respective opponents – winning by 107 points – 21.9 (135) to 3.10 (28).
It all started in the middle where Nick Marsh and David Purser reaped the benefits of Alex Coleman's tap work and won clearances at will. On the wing, Nick Wells was a class above with his skills and the forwards feasted on these clearances and elite delivery.
Mason Rollo played his best game at the level, kicking four goals but also showing his defensive attributes, and down back, Ben Litchfield controlled the area and continually rebounded any Wanneroo forward sorties.
The Beast Carpet Cleaning C5-Reserves imposed their will on the game from the outset and in another commanding display won 25.15 (165) to 1.1 (7).
Obviously with a scoreline of that nature they won every position on the ground, with Jack Stevens outstanding, and both Tully Wickstein and Sam Zehnder cashing in on the opportunities in the front half, kicking 12 goals between them.
Experienced midfielder Joel Brown and key defender Liam Vardy were also pivotal along with rebounding half-back Dan Ryan who continues to build with every game after missing a big chunk of footy with a knee injury.
Significantly, though, some emerging players continue to impact including Reef Samuels, Jayden Hunt and Isaac Seidner.
Some clubs have been known to stack teams at this level, but the domination of this team is a reflection of the club's remarkable depth.
The Indian Ocean Hotel Brett Jones Colts also faced Wanneroo, but at Beach headquarters, and their match followed a similar trend as they gave rookie coach Darcy Sparks his first victory at the helm.
They exploded out of the blocks with seven goals in the opening term, including three from red-hot forward George Gasiorowski, to put the result beyond doubt at quarter-time.
While the Beach continued to work for opportunities, the goals became tougher to found but they ran out strong winners 10.14 (74) to 6.4 (40).
Lachie McLeod was outstanding in the midfield in concert with Campbell Francheshi and Ben Tindall while Gasiorowski and George Mortimer were damaging up forward.
The Beyond Tools E2-Grade almost assured themselves of a top three finish with an outstanding performance against Melville at Beach HQ.
A 103-point victory – 17.12 (114) to 0.3 (3) – has seen the Beach outfit create a two-game gap on the chasing pack and that triumph was based around a powerful first half that demoralised the opposition.
Michael Collins and Callan Dunjey were in control throughout while Fletcher Cooke maintained his high standards, while Jacob Willis, Vaughan Quinlan and Daniel Njegich wielded a strong influence.
The GJ Osplumb E3-Grade produced a competitive effort against Ballajura, but could not match their depth.
A highlight of the day was an exciting victory for the Grange Residential Integrated Rules who overcame Kelmscott Bulldogs at John Dunn Oval with a sizzling display.
Unfortunately, for both the Project Ceilings A-Grade Women and the Peak Body Fitness C4-Grade Women, they ran into opposition teams who were at the peak of their powers and they were well beaten.
That did not dampen the enthusiasm for ladies day, however, which was again a highlight.
Details
Hybrid Linings C5-Grade
North Beach      4.2         8.4         16.6       21.9       135
Wanneroo         0.3         2.7         2.10      3.10        28
Goals – North Beach: Brooks 5; J Cameron, Rollo 4; M Cameron 3; Quinn 2; Black, Torre, N Wells.
Best – North Beach: Marsh, Coleman, Purser, Litchfield, N Wells, Rollo.
Beast Carpet Cleaning C5-Reserves
North Beach      9.1         11.8       18.12    25.15    165
Wanneroo         0.0         1.1          1.1         1.1            7
Goals – North Beach: Wickstein 7; Zehnder 5; Hunt 3; McCauliffe, Dolling 2; Ryan, Luck, Cuzens, Twomey, Stevens, Seidner.
Best – North Beach: Stevens, Wickstein, Samuels, Ryan, Brown, Vardy, Hunt.
Indian Ocean Hotel Brett Jones Colts
North Beach      7.3         8.5         9.11       10.14    74
Wanneroo         1.0         3.0         5.2          6.4       40
Goals – North Beach: Gasiorowski 3; Mortimer, Craig Halley 2; McLeod.
Best – North Beach: McLeod, Francheshi, Tindall, Gasiorowski, Mortimer.
Beyond Tools E2-Grade
North Beach      3.6         7.8         13.10    17.12    114
Melville               0.0         0.0           0.2         0.3           3
Goals – North Beach: Kuppens 4; Bowden, Persichitti, Cooke, Osborne 2; Smith, Duckworth, Steffensen.
Best – North Beach: M Collins, Dunjey, Cooke, Willis, Quinlan, Njegich.
GJ Osplumb E3-Grade
Ballajura             3.5         8.5         12.6       14.11    95
North Beach      0.2         0.3           3.3         4.5       29
Grange Residential Integrated Rules
North Beach      0.1         3.1         6.2         7.3         45
Kelmscott           1.3         2.5         3.7         5.7         37
Project Ceilings A-Grade women
Piara Waters 10.14 (74) def North Beach 3.4 (22)
Peak Body Fitness C4-Grade women
Warnbro Swans 3.3 (21) def North Beach 0.0 (0)