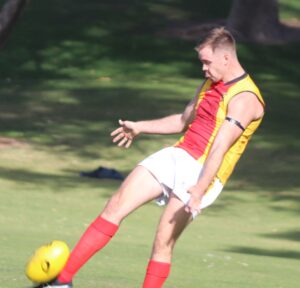 The North Beach O'Rourke Realty A-Grade team burst into life along with the senior competition when proceedings finally got under way at Bill Grayden Reserve last Saturday.
The new-look Beach model took a little time to hit top gear, but when they did Trinity Aquinas could not go with them.
After an even battle for three quarters, when the Beach's control of the game was not reflected on the scoreboard, finally they got some value from supply and rattled on seven goals in the last 22 minutes of the match.
They advanced from a three-quarter time score of 6.6 to finish on 13.10, turning a one-point deficit at the last change into a 44-point victory.
The only score for TA came in the dying seconds of the match – a behind.
The triumph was built around the class of ruckman Kyle Cranley, while Blake Piggott was outstanding both off half-back and through the midfield, Mitch Holbrook, who could this Saturday be in the social hall celebrating with his successful 2010 teammates, and former West Coast utility player Simon Tunbridge kicked three goals apiece.
James Garcia (two goals) was lively up forward, while Craig Hoskins did some good work through the middle and Dan Leishman provided strong run out of defence.
The Lifenet A-Reserves, searching for four successive premierships under Scott Holbrook, were also irresistible against TA, while the Plasterwise Phil Scott Colts started their title defence in emphatic fashion.
The reserves team had a number of graduating colts in their line-up, again highlighting the club's pathway to success, with Jamie Bennett and Travis Burton among the team's best performers.
As well, regular contributors like Tim Edwards, Adam Swain and Ben Johnson were prominent, while former Subiaco and West Coast Eagles midfielder Adam Cockie was prominent in his first game for the club.
The Phil Scott Colts team unveiled 15 new players, with Jack McIntosh, Dane Webb abd Caiden Eaton providing strong guidance to those newcomers as they carved out an impressive 29-point victory.
The Hybrid Linings C5-Grade had all the answers against Trinity Aquinas at Charles Riley Reserve, emerging as 34-point winners after the Boomers had closed to within two goals in the third quarter.
Blake Swayer and Sam Zehnder were strong avenues to goal with four apiece, while Craig Hall, Nick Marsh, Aran O'Connell and Andy Langsford were again prime movers.
The Coast to Coast Imports C5-Reserves dominated against TA, rattling on 21.14 (140) to a solitary behind in a tremendous display of the club's depth.
Nathan Adler capitalised on a powerful midfield display to kick seven goals, while emerging colts Conor Brown, Mason Rollo and Jack Steel were in the thick of the action, with Riley Duncan and Max Conroy.
The Beyond Tools C4-Grade are punching above their weight this season because of a re-structured competition, but despite an imbalance gave a feisty performance against Roleystone.
The effort was without question and were pushing hard in the third quarter but the longer quarters and injuries started to take their toll.
The Beach went down by nine goals but there are some good signs for the future.
The GJ Osplumb C4-Reserves also produced a tenacious performance before going down by 16 points while the Indian Ocean Hotel Brett Jones Colts notched up consecutive wins with a classy display against Trinity Aquinas.
The Project Ceilings A-Grade women also chalked up consecutive victories, proving too skilful and well-drilled for Rossmoyne – winning 5.8 (38) to 0.0.
They backed up from a bruising season-0opener against Nollamara maintained their composure and held their opponent scoreless. It was a master class in four-quarter footy with a dedicated focus on creating width, transition and clean hands with corridor footy as focus.
Sarah Viney was best afield while Emily Sainty and Lauren Hutton also dominated and Lexi Lindsay dominated in the forward line and kicked four goals.
Unfortunately a number of players were unavailable for the Peak Body C3-Grade, forcing the club to forfeit the match against Curtin University-Wesley.
The Grange Residential Integrated team scored their first win of the season with a brilliant display against Wembley.
O'Rourke Realty A-Grade
North Beach       2.1          4.4          6.6          13.10     88
Trinity Aquinas  3.0          6.0          7.1            7.2        44
Goals – North Beach: Holbrook, Tunbridge 3; Garcia, Deegan 2; Mansfield, Gill, Campbell.
Best – North Beach: Cranley, Gill, Piggott, Lamont, Leishman, Garcia, Holbrook.
Lifenet A-Reserves
North Beach 15.10 (100) def Trinity Aquinas 1.2 (8)
Goals – North Beach: Johnson 4; Edwards, Swain 3; Brooks, Cockie 2; Schofield.
Best – North Beach: Swain, Cockie, Johnson, Edwards, Bennett, Burton.
Plasterwise Phil Scott Colts
North Beach 8.6 (54) def Trinity Aquinas 3.7 (25)
Best – North Beach: Scurria, McIntosh, Rose, Martino, Webb, Spencer, Eaton.
Hybrid Linings C5-Grade
North Beach 12.4 (76) def Trinity Aquinas 6.6 (42)
Goals – North Beach: Zehnder, Sawyer 4; Jennis 3.
Best – Hall, Sawyer, Marsh, A Langsford, A O'Connell.
Coast to Coast Imports C5-Reserves
North Beach       6.4          10.6        15.13     21.14     140
Trinity Aquinas 0.1            0.1           0.1          0.1            1
Goals – North Beach: Adler 7; Rollo 5; Steel 4; Orford, Cahill, McAuliffe, Irvine, Twomey.
Best – North Beach: Brown, Steel, Conroy, Adler, Duncan Rollo.
Indian Ocean Hotel Brett Jones Colts
North Beach 12.6 (78) def Trinity Aquinas 0.2 (2)
Beyond Tools C4-Grade
North Beach 7.1 (43) lost to Roleystone 16.9 (105)
Goals – North Beach: Bramley 2; Tait, Darcy, Jeredis, Cooper, Orr-Young.
Best – North Beach: Tait, Bramley, Cooper, Sullivan, Tobin, Evans.
GJ Osplumb C4-Reserves
North Beach 5.4 (34) lost to Roleystone 6.14 (50)
Prestige Ceilings A-Grade women
North Beach 5.8 (38) def Rossmoyne 0.0 (0)
Goals – North Beach: Lindsay 4.
Best – North Beach: S Viney, Sainty, Hutton, Lindsay.
Peak Body C3-Grade women
North Beach lost to Curtin University-Wesley on forfeit
Grange Residential I-Grade
North Beach 12.6 (78) def Wembley 4.3 (27)