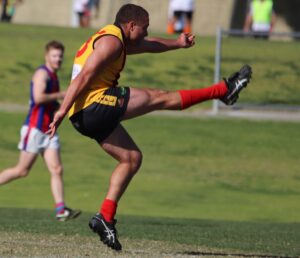 To succeed in big games it is imperative to maximise the opportunities that are presented.
When the O'Rourke Realty A-Grade team was last week presented with the challenge of confronting Fremantle CBC in a pivotal fixture at Morris Buzzacott Reserve, their failure to fully exploit early chances bit hard late in the game.
As was the case right across the metropolitan area, conditions were more attuned to indoor sports than exposure to driving rain and wind squalls, so when opportunities were created it was even more imperative that the Beach took advantage.
Unfortunately, that was not the case and the Beach fell to a disappointing 52-point defeat – 12.9 (81) to 3.11 (29) against the same team and at the same location that ended last year's finals campaign.
In the first term, the Beach had most of the play – as well as the advantage of a stiff breeze – but yielded just 0.4 for the term.
While they scrapped in the second quarter and had a reasonable share of the football, luck was also on the other side as mother nature decided that CBC was deserving of three quarters with the breeze.
They were also stronger in the contest, tougher in their commitment and cleaner with their skills. With the exceptions of experienced midfielder Dan Leishman, rookie Joe Deegan and ruckman Kyle Cranley, the Beach did not match their opponents in the engine room.
Defensively Tom Hooper and Liam Catalfamo were solid while Max Hurley kicked two of his team's three goals.
The Lifenet A-Reserves have dominated the competition with four wins in excess of 100 points, but they had to work hard to maintain their unblemished record against CBC.
In the end they endured 7.8 (56) to 7.4 (52) after an entertaining and absorbing battle.
The Beach was well served by Nick Wells in his return to the A-Reserves, while ruckman Tom DeCourtenay, defenders Brennen Irvine, Cam Hoskins, Ben Sweeny and midfielder Jayden Black worked hard.
The Plasterwise Phil Scott Colts also paid a price for inefficiency, losing to Fremantle CBC despite have more of the ball and creating more scoring shots.
In the end, scoring five times more often than the opposition still equated to a 10-point defeat – 5.11 (41) to 8.3 (51). It was, however, a bold performance against the undefeated league leaders and gives rise for optimism moving forward.
It was stern test and something from which the colts will learn.  Jack Davidson kicked three goals and was a constant threat up forward, while Ben Wasley also kicked two goals.
O'Rourke Realty A-Grade
Fremantle CBC  1.3          4.3          9.4          12.9        81
North Beach       0.4          1.6          2.9          3.11       29
Goals – North Beach: Hurley 2; Ekert.
Best – North Beach: Leishman, Cranley, Deegan, Hooper, Catalfamo, Hurley.
Lifenet A-Reserves
North Beach 7.8 (50) def Fremantle CBC 7.4 (46)
Goals – North Beach: Adler, Swain 2; Schofield, B Irvine, Torre.
Best – North Beach: Wells, DeCourtenay, Irvine, Hoskins, Sweeny, Black.
Plasterwise Phil Scott Colts
Fremantle CBC  1.2          2.2          5.3          8.3          51
North Beach       1.4          4.6          5.8          5.11        41
Goals – North Beach: Davidson 3; Wasley 2.
Best – North Beach: Wells, Davidson, Clinch, Morrison, Martino.