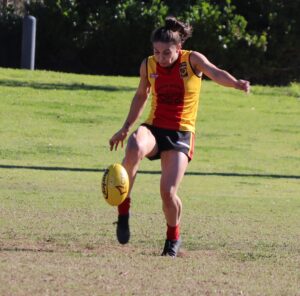 In wet, greasy conditions sometimes it's just a question of luck.
A bounce – or skid – to the right or wrong side of the goal post; a deflection to space, an umpires' call. In close games it can often be a lottery.
For the Project Ceilings North Beach A-Grade last week, they couldn't cut the break they needed in their final game of the season. On balance of play against Warnbro, they deserved victory, but were unfortunately denied and had to be content with a two point loss – 2.2 (14) to 1.6 (12).
While disappointed there was still reason to be upbeat. They played well against one of the strong premiership contenders, had big numbers at an open day on Monday evening and a week earlier produced a powerful victory against Nollamara.
All-in-all, it was a good week. Not perfect, but encouraging.
With four players backing up for the A-Grade outfit, having played in an early game at Charles Riley Reserve, the team ethos and unity was again evident.
Had they converted a couple of set shot opportunities it might have been better, but it was still reason to be optimistic about the future.
Ash Pianto, as one might expect, relished those conditions. Elysia Burvill, Lou McKenry, Clare Dickson, Tessa Anderson and Isabelle Strover were also prominent in the conditions.
There is a long-held view that in the wet it brings the good teams back to the pack. The reverse actually applies, with the good ball-handlers, the more skilful players standing out from the rest and that was the case with the Beach's best performers.
The Peak Body Fitness C4-Grade Women had a tough assignment against University, who finished the season in third position.
University packed a little too much fire-power and won 6.5 (41) to 0.0 (0).
Project Ceilings A-Grade Women
Warnbro 2.2 (14) def North Beach 1.6 (12)
Goals – North Beach: Turner.
Best – North Beach: Pianto, Burvill, McKenry, Dickson, Anderson, Strover.
Peak Body Fitness C4-Grade Women
University 6.5 (41) def North Beach 0.0 (0)