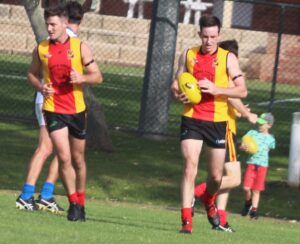 It has been a rough year for the GJ Osplumb E3-Grade. Numbers have been thin and being at the bottom of the player chain, no one gets hit harder than the sixth grade.
A couple of injuries in A-Grade and the knock-on effect jars all the way down the grades, coming to a grinding halt, like a trailer stripped of its tyres at the 6s.
But persistence – with a dose creativity and a little persuasion – paid off last Saturday.
Light on for numbers again, coach Will Hooper was racking his brain trying to find a solution as he looked to field a team. A conversation with club legend Bill Duckworth and a few phone calls later, the problem was solved.
A number of former A-Grade premiership heroes, who enjoyed success under Duckworth, as well as major sponsor Jarrod O'Rourke and the cavalry arrived. Plucked from retirement.
Greg Pires, Josh McGinnity and Luke Smith were among others to answer the call as the Beach scored a powerful victory over Brentwood Booragoon to sing the song for the first time this season.
Those senior players were not annexed from the retirement village exactly, they had been playing AFL 9s with the North Beach Pups, but their class was a welcome addition. They were influential from the outset, with Pires producing a best-on-ground effort and McGinnity banging on five goals.
In addition, Jarrad Krammer imposed himself from the outset while stalwart Peter Panagopoulos, Arnup and Andrich were also important. Sixth grade legend Troy Gurney was retired through injury but enjoyed belting out the song one last time.
Meanwhile, the Beyond Tools E2-Grade won an important contest against Hamersley-Carine to move into third position courtesy of their 12.6 (78) to 9.7 (61) victory.
Dean Wilson was his usual combative self, setting the tone with a gritty performance while Fletcher Cooke continued his good midfield form. James Steffenssen kicked three important goals and Nathan Raynor, Michael Collins and Jack Lazenby were also key contributors.
The Hybrid Linings C5-Grade survived a strong first half challenge from Fremantle CBC before powering away in the last 40 minutes to maintain their unblemished record.
After scores were tied up at half-time, the Beach kicked clear to win 13.5 (83) to 6.6 (42).
Alex Thompson again led the midfield recovery and was reaping the benefits of Michael Schofield and Alex Coleman dominating in the ruck.
Luke Hopkins moved out of his customary role in defence to play through the middle and did an outstanding job in shutting down CBC's prime mover.
Matt Irvine and Matt Seaton changed roles in the second half and became very influential and up front, Mitch Cameron continued his great form with another four goals.
The Beast Carpet Cleaning C5-Reserves were in control throughout as they notched up another commanding victory, beating CBC by 77 points – 14.16 (100) to 3.5 (23).
After a tug-o-war in the first encounter of the season, the Beach set the tone for this match early and never relented.
The Beach beat them in the pressure game which allowed the team to attack at will, and that was led by Ben McAuliffe who had a big influence with his assault on the ball. Apart from a bit of inaccuracy in front of goal this was a really strong performance by the team, considering CBC were comfortably the third best side in the competition.
The Indian Ocean Hotel Brett Jones made a strong run to the line against Trinity Aquinas, but the damage was done in the first half. Down by 40 points at the main break, North Beach held the Boomers to just one second half goal.
It proved a bridge too far, despite a solid recovery led by the likes of Kai Johns, Jake Moreschini and James O'Malley. They lost 10.8 (68) to 8.5 (53), a commendable performance under rookie coach Darcy Sparks.
The Grange Residential I-Grade capped a solid day for the club with an impressive 20-point win over the Kelmscott Bulldogs, 4.9 (33) to 2.1.
The Bulldogs might have left without the points, but they were delighted to don a new set of jumpers and certainly looked a classy outfit.
Congratulations to coach Peter Panagopoulos and his wonderful team on consecutive victories.
Details
O'Rourke Realty A-Grade
North Beach       4.2          7.4          7.8          11.9        75
North Frem         1.3          2.4          6.7          9.7         61
Goals – North Beach: McGuinness, Lamont, Ekert 2; McIntosh, M Dwyer, Cownie, Garcia, Scurria.
Best – North Beach: Cranley, Symonds, McGuinness, Lamont, Leishman, Mansfield, McIntosh, Bottechia.
Lifenet A-Reserves
North Beach       3.3          6.4          7.8          8.13        61
North Frem         0.0          0.3          1.3          1.3            9
Goals – North Beach: Adler 4; Swain 2; C O'Connell, Webster.
Best – North Beach: Josh Chapman Raynor, Stott, Edwards, Adler, Martino, Swain, Bowe.
Plasterwise Phil Scott Colts
North Beach       3.1          8.6          12.7        17.8        110
North Frem         0.0          1.0          1.3         2.4           16
Goals – North Beach: Coles 7; Perry 3; O'Shea 2; Kirkpatrick, Cameron, Prior, Coleman, Bothe.
Best – North Beach:
Hybrid Linings C5-Grade
North Beach       2.1          4.3          8.4          13.5        83
Fremantle CBC  2.1          4.3          5.4            6.6        42
Goals – North Beach: M Cameron 4; Brooks, Rollo 2.
Best – North Beach: Thompson, Schofield, Hopkins, Seaton, Irvine, Hunter.
Beast Carpet Cleaning C5-Reserves
North Beach       4.2          8.6          10.14     14.16     100
Fremantle CBC  1.1          2.2            2.2          3.5          23
Goals – North Beach: J Cameron 3; Ryan, Wickstein, Collins 2; Brown, Quinlan, McAuliffe, Dolling, Cuzens.
Best – North Beach: McAuliffe, Jongenelis, Collins, Samuels, Brown, Wickstein, Clapham.
Indian Ocean Hotel Brett Jones Colts
Trinity Aquinas  4.3          9.4          9.5          10.8        68
North Beach       1.0          3.0          4.3            8.5        53
Goals – North Beach: N/A
Best – North Beach: Johns, Moreschini, O'Malley.
Beyond Tools E2-Grade
North Beach       3.4          8.5          10.6        12.6        78
Hamersley-Car  4.2          6.3          7.6           9.7        61
Goals – North Beach: Steffenssen 3; Lazenby, Darcy 2; Bowden, Ugle, Persichitti, Smith, Staniforth.
Best – North Beach: Wilson, Cooke, Steffenson, Raynor, Collins, Lazenby.
GJ Osplumb E3-Grade
North Beach 11.9 (75) def Brentwood-Booragoon 4.2 (26)
Goals – North Beach: McGinnity 5.
Best – North Beach: Pires, Krammer, Kouroulis, McGinnity, Panagopoulos, Arnup, Andrijch.
Grange Residential Integrated Rules
North Beach       1.4          2.7          3.7          4.9          33
Kelmscott            2.0          2.0          2.1          2.1          13