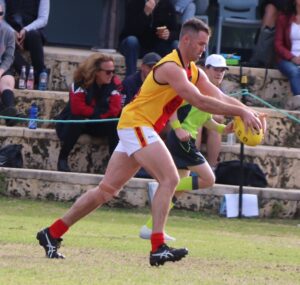 By Gary Stocks
It was half-time, game in the balance. The O'Rourke Realty North Beach A-Grade was trotting out for the start of the third term.
Steady drizzle, had become a lot heavier. A Beach supporter on the balcony called out encouragingly, 'C'mon Sammy these are your conditions.'
Lamont is a low-to-the-ground vacuum, loves the wet. Why wouldn't he? In his native Albany this was a beautiful winter's day. Perfect for footy. A bit cold, a bit damp, but no breeze.
The speedy Lamont had already been good and he was even better after half-time in a gripping match against second placed Kingsway.
But one player who does not fit the stereotype of a football 'rain man' was even better. Kyle Cranley, at a guess, stands about 196cm. Tall and athletic, the reigning Brian Kiely medallist has led the ruck for the last few years.
And he was simply inspirational. In tandem with Lamont – and many others – he helped the Beach maintain its unbeaten run with a gritty 9.6 (60) to 8.5 (53) victory.
Cranley dominated in the ruck and often belted the ball into space, so important on a day when it was primarily a congested slog. Lamont, James Garcia, Craig Hoskins and Mitch Gill enjoyed the ball in space and they did everything to keep the ball moving towards the Beach goals.
Ryan Ekert, another big man who broke the mould of the players 'suited' to the conditions, was also strong, with Nic Reid and defensively Daniel Leishman, Ned Halley and Luke Symmonds were important.
It all added up to another important triumph in what was a stern test against the competition's most improved team.
The Lifenet A-Reserves completely dominated Kingsway, but the big moment of the game came with the team's 22nd – and final goal – of the game.
They were leading by 132 points, but the celebration of Jarrod Chapman's major was more akin to an after-the-siren winner. Chapman has played his career almost exclusively in defence, but was thrown forward to mix things up a bit in the last five minutes.
His teammates did everything to get the ball to him and Chapman did the rest, essentially from the goalsquare, putting the exclamation mark on a 22.15 (147) to 1.3 (9) romp. It signalled a team pile on and a broad smile from the big bloke.
With a scoreline of that nature, the Beach clearly won every position on the ground, Adam Swain, Ben Johnson, Nathan Adler and Dion Cownie capitalising to kick 14 goals between them.
Beau Witheridge and Steve wielded a strong influence through the midfield, Liam Catalfamo continued his rich vein of form while Chapman was solid down back before the game's magnificent climax.
The Plasterwise Phil Scott Colts were forced to work hard for four points against an improved Kingsway.
It seemed the Beach was poised to finally break away after twice establishing a 22-point advantage – either side of three-quarter time – but the spirited Roos kept coming and edged with nine points at the final bell.
Eventually the Beach won 10.9 (69) to 9.6 (60), largely off the back of the rebound from Tai Kirkpatrick, while Sam Cooper was strong in the air at centre half-back.
Craig Bothe was ubiquitous while Matt Coleman offered plenty of drive off a wing and Dallas McAdam was dangerous up front, kicking three goals.
The colts enjoyed the best of the conditions, playing in still dry weather and the quality of the football matched it.
Details
O'Rourke Realty A-Grade
North Beach       3.1          6.3          9.3          9.6          60
Kingsway             4.4          5.4          7.5          8.5          53
Goals – North Beach: Lamont, Ekert 2; Brockbernd, Reid, Garcia, Scurria, Lucassen.
Best – North Beach: Cranley, Lamont, Garcia, Leishman, Hoskins, Ekert, Reid, Symonds.
Lifenet A-Reserves
North Beach       5.9          10.12     16.14     22.15     147
Kingsway             0.0            1.2           1.2         1.3            9
Goals – North Beach: Swain, Johnson 4; Cownie, Adler 3; C Wells, Edwards, Webster 2; Chapman, O'Connell.
Best – North Beach: Witheridge, Catalfamo, Mansfield, Jarrod Chapman, O'Connell, Johnson, Webster, Cownie.
Plasterwise Phil Scott Colts
North Beach       4.1          5.5          9.8          10.9        69
Kingsway             3.1          5.2          6.4            9.6        60
Goals – North Beach: McAdam 3; Bothe, O'Shea 2; Perry, Brooks, Foley.
Best – North Beach: Fitzpatrick, Cooper, Coleman, Bothe, Bellouard, Papadopoulos.