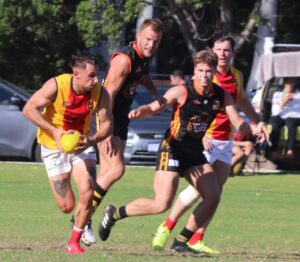 Favourite son Nic Reid will return to action with the North Beach O'Rourke Realty A-Grade as it searches to add to its strong start to the year in a twilight game against Wembley at Pat Goodridge Reserve tomorrow.
Reid, who spent two years in the West Coast Eagles system – initially with the WAFL Eagles in 2019 and then on the club's senior list in 2020 – has returned to the Beach this year.
He missed the opening round victory over North Fremantle but is now poised to at the club where he learned his craft. He replaces James Canty, who made an impressive debut with the club in a solid victory over North Fremantle last week, but is unavailable for this match.
The inclusion of Reid, who played three AFL matches last year, has been a highly-anticipated event and had the club buzzing last night.
This clash with Wembley, the only team promoted from B-Grade after the truncated COVID season of 2020, will start at 4.10pm. Wembley beat West Coast Cowan in the B-Grade grand final last season and are expected to make a strong challenge.
The Lifenet A-Reserves and Plasterwise Phil Scott Colts will also play at Wembley's home base, while all of the other teams representing the Beach will play at Charles Riley Reserve.
A full day of football will culminate with the Grange Residential I-Grade playing their first match of the season, with a 4.30pm start against Fremantle CBC.
The club's women's teams will kick of their 2021 campaign next week, which will mean all 11 teams will finally be in action.
Fixtures, round 2
O'Rourke Realty A-Grade
Wembley v North Beach, Pat Goodridge Reserve, 4.10pm
Lifenet A Reserves
Wembley v North Beach, Pat Goodridge Reserve, 2.20pm
Plasterwise Phil Scott Colts
Wembley v North Beach, Pat Goodridge Reserve, 12.30pm
Hybrid Linings C5-Grade
North Beach v University. Charles Riley Reserve, 2.40pm
Beast Carpet Cleaning C5 Reserves
North Beach v University. Charles Riley Reserve, 12.35pm
Indian Ocean Hotel Brett Jones Colts
North Beach v Fremantle CBC, Charles Riley Reserve 11am
Beyond Tools E2-Grade
North Beach v Bassendean, Charles Riley Reserve (2), 2.30pm
GJ Osplumb E3 Grade
North Beach v Bassendean, Charles Riley Reserve (2), 12.35pm
Grange Residential Integrated Rules
North Beach v Fremantle CBC, Charles Riley Reserve, 4.30pm