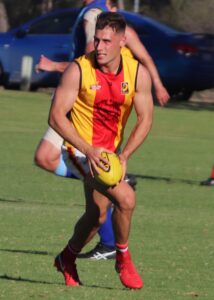 Two years ago, on this corresponding weekend, Nic Reid was preparing to play his 100th game for North Beach against Curtin University-Wesley.
He reached the milestone at North Beach in front of the faithful at Charles Riley Reserve and celebrated the occasion with a five-goal bag.
There was no thought at that moment that there was much more in his football journey than finals footy at the local club where he was revered figure.
Now he is getting ready for biggest stage and will make his AFL debut against Hawthorn on Sunday at Optus Stadium, in front of somewhere between 25-30,000 people.
In 2018, with former Subiaco utility player Shane Paap at the helm, Reid underlined his talent by kicking 48 goals in an injury-affected season. He was runner-up to Joel Ashman in the WA Amateur Football League A-Grade competition and was also runner-up in the North Beach award (tied with Dan Leishman) to Sam Lamont.
Reid had become a local hero. Kids were going to Charles Riley Reserve to watch him play, wearing his No.19 on their backs. Among that throng of youngsters was Callum Jamieson, another product of the North Beach Junior Football Club, who is now on the Eagles list.
It was post that 2018 season that Reid found himself back on the path to elite football.
The West Coast Eagles had been granted a licence to play in the WAFL, allowing all of its players not selected in the AFL team to play together in the second tier competition. The alignment with East Perth had disintegrated and the Eagles wanted to go alone.
They were granted a licence and joined the competition, albeit handcuffed by severe recruiting restrictions.
It meant they needed to get creative with the list structure for their WAFL Eagles and all of Reid, Lamont and Ashman were so-called "top-up" players plucked out of the Amateur league. Pigeon holing them as supplementary player hardly did them justice, but it gave all of them an opportunity to play at the next level.
The embers of desire had again been fanned within the man they call Dos. Hope that had been almost extinguished rose again. Reid probably didn't know how much he wanted it until he began mixing with AFL talent, recognising he was not entirely out of place.
For Reid, it was a platform to show a captive audience what he could do. He impressed General Manager – football Craig Vozzo, Eagles coach Adam Simpson and other staff who were dedicated to the WAFL team.
After a 2019 campaign when he demonstrated a capacity to influence WAFL games, the Eagles were given permission for him to train over the summer. Although his appearances on the track were limited because of shoulder surgery, he put everything on the line, even taking a year's leave of absence from teaching to give it all of his attention.
Where he was not ready for the structured life of a WAFL player – let alone AFL football – in his late teens, the more mature version of Reid has craved it in his early 20s.
He is yet another example of a young man who would never have received this opportunity with a compressed senior list. Now he is ready to capitalise on his footy life line and take another quantum leap forward on his football – and life – experiences.
Reid's journey to the AFL has been the antithesis of the smooth ride from the TAC Cup or WAFL colts to elite football.
No luxury vehicle or sealed highway on his path to the top.
He started on that manicured route, missed a couple of turns, found himself in a beat-up four wheel drive in the middle of nowhere but has eventually made it to the desired destination.
He could have been excused for being disillusioned by those frustrating, unplanned detours. Abandoning his AFL dream was more logical than clinging to thinning hope.
Especially when it drifted from arms-length as a member of WA under-age squads to a barely visible image far on the dusty horizon of the gravel tracks he was navigating in early adulthood.
But on Sunday, when he fulfils his long-held AFL ambition, making his debut for the West Coast Eagles against Hawthorn, it will all seem worthwhile. The brown pebbles pounding the undercarriage on his drive to the top had kept him alert, rather than drifting completely off target.
And he will become a unique and compelling football story when, at age 24, he steps out as the 252nd player to represent the West Coast Eagles in its 34-year history.
Reid has always had talent, but he never quite fitted the neat template that the AFL industry expects of its aspiring youngsters. He wasn't besotted with the game, had a couple of cracks with WAFL club Claremont, but in his late teens he wasn't quite ready for that structured and routine way of life.
He preferred to play with his mates at amateur club North Beach.
He liked the freedom of just playing footy. The game came naturally to him and he mirrored it in the way he played. Instinctively.
It is possible for me to offer some insights into this young man because I was coaching the colts at North Beach when he opted out of the Claremont program. I wouldn't say I, or Dave Barwick, with whom I shared the role, coached him as much as plonked him in the centre and asked the umpires to start the game.
He dominated, often kicked three or four goals out of the middle, and we just enjoyed the spectacle. We weren't the only ones. A-Grade players would come to the ground early to watch him play.
That was 2012 and Reid was clearly a class above all others at that level. The senior coach at North Beach, Bill Duckworth recognised it too, and Reid's stint in the colts was short-lived.
Duckworth, a two-time Essendon premiership player and 1984 Norm Smith medallist, injected him into the seniors and played a nurturing role with the talented youngster.
A year later, another AFL premiership star, David Hynes, a significant part of the 1994 West Coast Eagles premiership team, assumed the senior position at North Beach and he continued to mould an evolving young man who was among the most talented, if not the  most talented, players in the competition.
The North Beach army will doubtless have a strong representation at Optus Oval. Those who can't get there will be glued to their television sets.
All will feel a sense of pride when 'Dos' struts his stuff. He's one of ours and we love him.