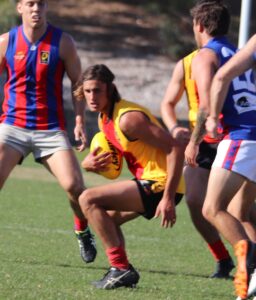 Affirmation that North Beach will reap long-term benefits from a period where its resilience is being tested came last Saturday when the O'Rourke Realty A-Grade team eclipsed Kingsley at Kingsley Park.
It wasn't so much the 46-point victory that was satisfying, more so it was a handful of emerging players who were architects in the triumph.
With more than a dozen senior players unavailable through injury, illness or travel the club's resolve has been scrutinised. On ladder positions, the Beach should have accounted for the Cats, but nothing is ever guaranteed.
And at the forefront of this victory were young players who represent the future of the club.
Defenders Austin Sheard, Brennen Irvine and Matt Murray were in the thick of it as the Beach recovered from a sluggish start on a day when it was more about getting the job done than being too concerned with the method.
Also shining on a day when the sun rarely did were experienced campaigners Andrew McGuinness, who showed his class with a three-goal haul, Dan Leishman and Kyle Cranley built on their exceptional 2019 body of work and Mitch Gill excelled through the engine room.
The Lifenet A-Reserves were not expected to be challenged by Kingsley and that proved to be the case as they strolled to a 109-point victory – 18.13 (121) to 2.0 (12).
Again, this more about a few individuals finding some touch and regaining some lost confidence. From that perspective, the coaching staff would have been delighted with the form of hard-nosed midfielder Matt Holden and forward Max Hurley, who were left out of the A-Grade team.
Holden responded with a best on ground performance while Hurley, a gifted forward who has shown glimpses of what he can do, hit the scoreboard with four goals.
Adam Swain was destructive through the middle and capped his game off with four goals, while Josh Stott, Peter Hiotis and Nick Wells contributed to the domination.
The Plasterwise Phil Scott Colts also carried too much class for the Cats, starting a winning day with a polished performance that resulted in a 46-point victory – 11.10 (76) to 4.6 (30).
Caiden Eaton was damaging up forward with four goals, continuing a solid block of form, while Ben Wasley weighed in with three of his own.
The ultra-consistent Jack Merson was again exceptional with Judd Clinch in defence, with Conor Boylan strong through the middle, Kurt Hamilton gave the midfielders first use and Jack McIntosh was again tenacious.
In addition, Flynn Rose enjoyed his first exposure to the higher level of colts football and Lucas Osborne also met the rise in class with distinction.
The Indi Bar Brett Jones Colts did not get the opportunity to play their trade with Cockburn Lakes failing to get enough numbers together and forfeiting.
Results
O'Rourke Realty A-Grade
North Beach      0.4         4.8         6.12       11.15    81
Kingsley              0.3         1.7         3.8           4.11     35
Goals – North Beach: McGuinness 3; Leishman 2; Dwyer, Edwards, Foley, Webster, B Irvine, Gill.
Best – North Beach: Sheard, McGuinness, Leishman, Cranley, Murray, Gill, B Irvine.
Lifenet A-Reserves
North Beach      6.1         6.1         9.6         18.13    121
Kingsley              2.0         2.0         2.0           2.0         12
Goals – North Beach: Hurley, Swain 4; Torre, M Cameron 3; C O'Connell, R Hinkley, Stott, Tothill.
Best – North Beach: Holden, Stott, Hiotis, Hurley, Sweeny, Wells, Swain.
Plasterwise Phil Scott Colts
North Beach      2.3         6.5         8.6         11.10    76
Kingsley              1.0         1.3         2.4           4.6       30
Goals – North Beach: Eaton 4; Wasley 3; Wells 2; Burton, Stevens.
Best – North Beach: Merson, Clinch, Boylan, Hamilton, Eaton, McIntosh, Rose, Osborne.
Indi Bar Brett Jones Colts
North Beach 15.0 (90) def Cockburn Lakes 0.1 (1) – Forfeit