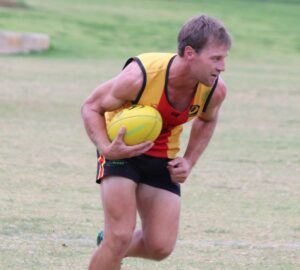 It was early in the first quarter of the Hybrid Linings C5-Grade contest with North Fremantle.
The ball floated towards the wing and Craig Hall had a decision to make; sit and wait at the foot of the pack and crumb the spoils or run back into contest, knowing there would be strong front on contact was imminent.
Anyone who has seen "Rowdy" play would not hesitate to nominate the option he took. Of course, he turned to compete, copped a whack in the face for his trouble and left the ground to have a trickle of blood wiped from his mouth.
A few minutes later, having received the necessary treatment, he returned to the battle and completed his 150th match for North Beach in the manner in which he has attacked his footy since the minute he set foot in the club.
That wasn't the last physical clash he endured for the day as he inspired his team to a commanding 44-point victory against the Maggies – 11.12 (78) to 5.4 (34).
A tight first quarter saw only a few points separating the teams at the first break but the Beach, with the inclement weather coming, knew the second quarter was crucial.
And the cream rose to the top with North Beach having six scoring shots to two, converting four of those into majors while keeping North Fremantle goalless to take a 27 point lead in at half time.
The heavens opened not long in to the third quarter and with the contest getting more willing, the Beach kept their discipline and their focus on the footy.
Up forward, Jordan Brooks and Sam Zehnder kept up their early season goal scoring form while through the middle Nathan Torre, Jamie Bennett, Jayden Black and Alex Thompson continued to pump the ball forward.
The backline has been superb all season and they were again on top of their game allowing the Maggies just two individual goalscorers.
The Beast Carpet Cleaning C5-Reserves had earlier produced a sublime performance against North Freo, dominating every aspect of the contest on the way to a 94-point victory.
Mitch Cameron continued to feast on strong supply from the midfield bagging 10 goals to give him a remarkable 23 goals from the last two games.
Through the midfield, Joel Brown was again exceptional along with Conor Pollard while Liam Hunter excelled on a wing, with Reef Samuels, Liam Vardy and Ben McAuliffe were also outstanding.
The Indian Ocean Hotel Brett Jones Colts had their opportunities against fellow 2020 grand finalists Collegians at Dalkeith Oval, but did not make the most of their chances and lost 9.10 (64) to 12.5 (77).
Again, the Beach was undisciplined conceding handful of 50 metre penalties which is akin to hitting the self-destruct button. Riley Sparks, Tom Emes and Lachie McLeod were solid contributors for the Beach.
The Beyond Tools E2-Grade dominated their match against Kingsley, but failed to take full toll of the opportunities in the atrocious conditions, winning 7.19 (61) to 2.1 (13). They kicked a wasteful 2.13 in the opening term, but still had it under control.
Lucas Gardiner continued his good form, while Brandon Ingleby, Fletcher Cooke, Dean Wilson, Jack Lazenby and Jacob Willis were relentless and contributed to the overwhelming victory against the Cats.
The GJ Oslpumb E3-Grade had their work cut out against Carlisle and lost 16.16 (112) to 0.3 (3).
Meanwhile the Project Ceilings A-Grade Women found Warnbro too tough to crack, going down 2.5 (17) to 5.8 (38) on a day marred by a serious injury to Kellie Holden, who dislocated her elbow.
It wasn't any easier for the Peak Body Fitness C4-Grade women who confronted University on the picturesque James Oval on campus at UWA. They failed to score while University rattled on 7.5.
The Grange Residential I-Grade faced the formidable Fremantle CBC at Morris Buzzacot Reserve and found them too accomplished despite a highly competitive performance. CBC won 3.7 (25) to 1.7 (13) in the worst of Saturday's conditions.
Full marks to all players for their commitment to the game.
Details
Hybrid Linings C5-Grade
North Beach       2.4          6.6          9.8          11.12     78
North Frem         2.1          2.3          3.5            5.4        34
Goals – North Beach: Brooks 3; Zehnder 2; Hall, Bennett, Burton, Corbett, Rollo, Torre.
Best – North Beach: Hall, Torre, Black, Schofield, Bennett, A O'Connell.
Beast Carpet Cleaning C5-Reserves
North Beach       3.2          7.7          12.10     17.11     113
North Frem         0.0          0.0            1.0          3.1          19
Goals – North Beach: M Cameron 10; Twomey 2; Lang, Goodin, McAuliffe, Hunter, Samuels.
Best – North Beach: McAuliffe, M Cameron, Brown, Pollard, Samuels, Hunter, Vardy.
Indian Ocean Hotel Brett Jones Colts
Collegians 12.5 (77) def North Beach 9.10 (64)
Goals – North Beach: Jolley 2; Budimir, Cortese, Craig, Jones, Mortimer, Rocke, R Sparks.
Best – North Beach: R Sparks, Emes, McLeod.
Beyond Tools E2-Grade
North Beach       2.13        4.14        5.15        7.19        61
Kingsley               2.0          2.1          2.1          2.1          13
Goals – North Beach: Persichitti, Lazenby 2; Wilson, Maxfield, Kuppens.
Best – North Beach: Gardiner, Ingleby, Cooke, Wilson, Lazenby, Willis.
GJ Osplumb E3-Grade
Carlisle 16.16 (112) def North Beach 0.3 (3)
Project Ceilings A-Grade Women
Warnbro 5.8 (38) def North Beach 2.5 (17)
Peak Body Fitness C4-Women
University 7.5 (47) def North Beach 0.0
Grange Residential I-Grade
Fremantle CBC 3.7 (25) def North Beach 1.7 (13)