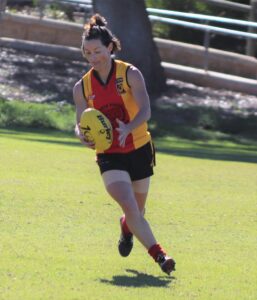 While some of the club's men's teams are jockeying for finals positions as qualifying rounds start to wind down, the curtain will fall on the season for other teams.
Both the Project Ceilings A-Grade women and the Peak Body Fitness C4-Grade women will play for the final time this season, as will the Grange Residential Integrated Rules.
While none of those teams will play finals, success is not deemed purely on wins and losses and they have been outstanding representatives and contributors to the club during the 2021 campaign.
There is no doubt that the women have developed even further this year and it is with great optimism that the club casts forward to 2022, particularly with the number of potential players who availed themselves of an opening training session at Charles Riley Reserve on Monday.
Senior coach Haydn Marchetto, who took on the role deep into the pre-season, did a wonderful job and the development of players and people was first class. A highlight, without question, was that Clare Dickson was selected as captain of the first Perth Football League State team.
The A-Grade women wrap up their season with a trip to Warnbro (starting 2pm) while the C4-Grade play at Charles Riley Reserve at 9.30am, giving them the opportunity to support each other in the last round.
The Integrated Rules team had strong numbers this year. It has never been about winning and Peter Panagopoulos and his amazing support crew have again done a fabulous job. The finish their season at Curtin University-Wesley's South Oval with a 5pm start.
Meanwhile the season rolls on for teams competing in finals, headlined by the O'Rourke Realty A-Grade playing Trinity Aquinas at Ernest Johnson Reserve (NB: matches have shifted from Bill Grayden Reserve because of oval condition and start times have changed).
The Beach needs to keep winning to stay in the race for top spot, having slipped to second after a loss to Kingsway last Saturday. There is plenty on the line in this one because the Boomers also need to win to stay in the hunt for a top five finish.
The Plasterwise Phil Scott Colts face a tough run home against fellow finalists in the last three rounds, starting with TA. There are four teams locked on 10 wins (including these two sides), with the Beach on top of the table courtesy of their superior percentage.
The other big game is the Beyond Tools E2-Grade, who play Kingsway and will be looking to win as they push for a top two finish – and the resultant double chance. They are in third position, one win behind both Bassendean and Lynwood Ferndale and are making a charge.
Tomorrow also represents a great opportunity for the GJ Osplumb E3-Grade as they travel to Gosnells. It has been a tough year, wins have been scarce, but they sense an opportunity against the Eagles.
Fixtures, Saturday August 7
O'Rourke Realty A-Grade
Trinity Aquinas v North Beach, Ernest Johnson Reserve, 4.30pm
Lifenet A Reserves
Trinity Aquinas v North Beach, Ernest Johnson Reserve, 2.35pm
Plasterwise Phil Scott Colts 
Trinity Aquinas v North Beach, Ernest Johnson Reserve, 12.40pm
Indian Ocean Hotel Brett Jones Colts
North Beach v North Fremantle, Charles Riley Reserve, 11am
Project Ceilings A-Grade women 
Warnbro v North Beach, Warnbro Sporting Complex, 2pm
Peak Body Fitness C4-Women
North Beach University, Charles Riley Reserve, 9.30am
Hybrid Linings C5-Grade
North Beach v Trinity Aquinas, Charles Riley Reserve, 2.40pm
Beast Carpet Cleaning C5 Reserves
North Beach v Trinity Aquinas, Charles Riley Reserve, 12.50pm
Beyond Tools E2-Grade 
Kingsway v North Beach, Kingsway Reserve 2.20pm
GJ Osplumb E3-Grade 
Gosnells v North Beach, Gosnells Oval, 2pm
Grange Residential Integrated Rules
Curtin University-Wesley v North Beach, South Oval, 5pm