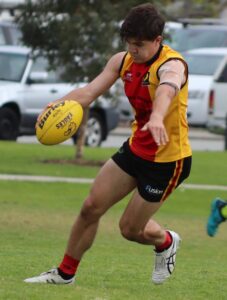 The O'Rourke Realty A-Grade team will begin its quest to go one better in 2021 with a round one match against North Fremantle at Charles Riley Reserve on Saturday, April 10.
After losing last year's grand final to Scarborough, the culmination of a truncated nine-round season, there is a strong resolve among the senior group to make amends and the challenge against the Maggies will be a strong test to open the Perth Football League's 100th season.
Another feature of the early rounds will be the traditional ANZAC Day contest – held on this occasion on April 24 at the club's home base against fellow 2020 finalist Curtin University-Wesley.
Having endured the adjustments of the abbreviated season last year, necessitated by the unwelcome arrival of COVID-19, the clubs and the League are optimistic about a season with no such disruptions.
There are, of course, no guarantees, but the plan is to play a full set of 18 matches and finals under the top five system.
The Beach began their preparation, at least in a match sense, with a hit out against south-west club Augusta-Margaret River on the weekend. This game was scheduled 12 months ago but was abandoned days after the pandemic hit Perth and the PFL season went into hiatus.
Senior coach Shane Paap was impressed with the hit out, a number of young players pushing for early season opportunities.
While the result itself was inconsequential, both teams missing several key players, the Beach won by about 10 goals. This trip, though, was more about unity – bringing together colts players who are graduating to senior football as well as new recruits and those who are long-established in the senior squad.
It was pleasing to see Ryan Ekert provide a strong target up forward while Caolan O'Connell kicked two goals and Keith Dellavedova, a mature recruit who has spent many years in the UK, was also lively.
Half-back Hamish Coulton was also efficient in his first hit-out in club colours while youngster Shannan Lucassen was lively on a wing and at half-forward and graduating colts Jack McIntosh played strongly off a wing.
Meanwhile, the lower grades made what is becoming a traditional sojourn just north of the CBD to play at Gidgegannup where there is a North Beach connection through former A-Grade premiership star Brett Davis.
It is the third year in succession that group has headed to the city fringes to play Gidgey and there was an extra motivator this time – to support that region that was so deeply affected by the February bushfires.
This weekend there is a full book of practice matches, with the Project Ceilings A-Grade women kicking off proceedings against West Coast Cowan at City Beach Oval.
The O'Rourke Realty A-Grade, Hybrid Lings third grade and Plasterwise Phil Scott Colts will also play matches against West Coast.
The Lifenet A-Reserves, and the Beast Carpet Cleaning fourth grade, as well as the Indian Ocean Hotel Brett Jones Colts, will clash with Kingsley at Moolanda Reserve (TBC).
If you're interested in an early look at the Beach in action there are myriad opportunities on Saturday.
Practice match schedule
Saturday, March 27
v West Coast Cowan at City Beach Oval
9am – Project Ceilings A-Grade women
10.45am – O'Rourke Realty A-Grade
1pm – Hybrid Linings third grade
3.05pm – Plasterwise Phil Scott Colts
v Kinglsey at Moolanda Reserve (TBC)
10.30am – Indian Ocean Hotel Brett Jones Colts
12.20pm – Beast Carpet Cleaning fourth grade
2.10pm – Lifenet A-Reserves