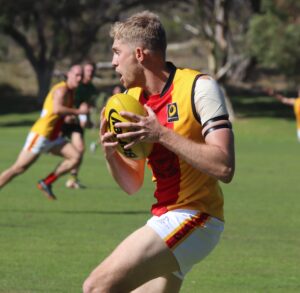 The football journey of Josh Stott has been anything except straight forward.
A promising teen who played colts football at North Beach, then represented the State at amateur level, he then played senior football at East Perth after attracting the eye of then East Perth mentor Tony Micale.
A serious shoulder injury curtailed his WAFL dream and then he returned to North Beach, always impeded by that problem to some extent.
He was a line coach with the O'Rourke Realty A-Grade for a few seasons, but this year the itch to play again was too strong to resist. The upshot is that Stott will tomorrow play his first senior match in six years, earning his chance after a strong run of form in the reserves.
Stott will line-up against Wembley with a couple of other North Beach favourites – Nathan Dwyer playing his first game of the year and Josh Chapman also resuming in what is an important game against Wembley.
Those three inclusions, along with the return of Blake Piggott from work commitments, means the Beach goes in with a strong line-up for a game that is pivotal to the broader picture for the season.
Wembley has habit of throwing a spanner in the works in recent seasons, following that trend in the first encounter of the year, so the Beach will be keen to atone.
The Lifenet A-Reserves will be looking to consolidate at the top of the table, with a few handy inclusions of their own.
Among them is Dylan Campbell, who resumes from injury, while Nathan Adler and Sean Foley return after a stint in A-Grade and will be keen to recapture the form that earned them their initial opportunity.
The Plasterwise Phil Scott Colts should carry too much firepower for Wembley, but the Indi Bar Brett Jones Colts face a challenge against University at McGillivray Oval.
The Beach sits a game ahead of University in second place and it would be nice to create a psychological edge as thoughts begin to wander towards finals.
The Hybrid Linings D1-Grade and the Coast to Coast Imports D1-Reserves each have a bye this week, along with the Grange Residential I-Grade.
The Beyond Tools E1-Grade plays East Fremantle at Winnacott Reserve and the GJ Osplumb E3-Grade play Warnbro Swans, who sit one place below the Beach in fifth position.
For the Galleria Toyota A-Grade women it doesn't get any easier. After confronting the unbeaten University last week, tomorrow it's the second-placed Curtin Wesley, at Charles Riley (2).
FIXTURES
Round 7
O'Rourke Realty A-Grade
North Beach v Wembley, Charles Riley Reserve, 2.30pm
Lifenet A-Reserves
North Beach v Wembley, Charles Riley Reserve, 12.35pm
Plasterwise Phil Scott Colts
North Beach v Wembley, Charles Riley Reserve, 10.40am
Hybrid Linings D1-Grade
Bye
Coast to Coast Imports D1-Reserves
Bye
Indi Bar Brett Jones Colts
University v North Beach, McGillivray Oval, 10.40am
Beyond Tools E1-Grade
East Fremantle v North Beach, Winnacott Reserve, 2.30pm
GJ Osplumb E3-Grade
Warnbro Swans v North Beach, Warnbro Sporting Complex, 2.30pm
Galleria Toyota A-Grade Women
North Beach v Curtin Wesley, Charles Riley Reserve (2), 11am
Grange Residential I-Grade
Bye