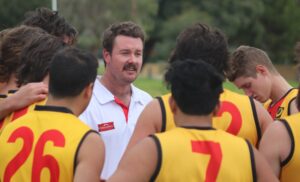 While the focus has been clearly trained on the performance of the flagship O'Rourke Realty A-Grade team, another of the club's senior teams has quietly been inching its way up the ladder.
Will Hooper has brought together a bunch of mates with whom he played junior and colts footy, a few of them filtering back in recent weeks to coincide with the GJ Osplumb E3-Grade team's rise.
The result is that they have put themselves in finals contention after battling through the first few rounds. Indicative of the improvement they have manufactured has come in the last fortnight when they have reversed some first round thumpings.
A couple of weeks ago it was Melville, last Saturday it was Piara Waters, the Beach producing a commanding performance to win by75 points.
The return of ruckman Alex Hack was a major factor, while Steven Clark, Joel Gray and Tom Dix were outstanding.
Up forward, Cam Emery finished off the work with three goals as the Beach piled on 16.11 to 5.2. Sam Harrison, Leighton Gurney and Josh Cuzens were also key factors.
While that was going on, the Hybrid Linings D1-Grade and the Coast to Coast Imports D1-Reserves did what they needed to do in despatching Wanneroo ruthlessly in both grades.
The third grade side earned an element of comfort going into a bye round with a dominant 58-point victory, club legend Bill Duckworth returning to the fray to stand in as coach for the day.
Led by Craig Hall, who continues set the bench mark for his teammates, the Beach carried too much firepower. Jordan Mesiti, Jacob Fitzroy, Callan Dunjey and Shane Duckworth steered the Beach to victory, while Sam Zehnder again hit the scoreboard with three goals.
The fourths obliterated the Roos – 21.8 (134) to 2.1 (13) – with Jaxon Lloyd enjoying a flood of opportunities on the way to an eight-goal bag.
Michael Humphrey and Tully Wickstein were also outstanding.
Unfortunately for the Beyond Tools E1-Grade, the frustration of chasing players to fill his team against proved insurmountable for coach Novak Smith.
The players he had available were brave, but they could not conquer Coolbellup and suffered a heavy defeat.
Players like Rob McComiskie and Brett Anthony set a high bar while Mason Rollo had an impact with a couple of goals.
The Galleria Toyota A-Grade women were unable to match the intensity and polish of University, going down by 40 points – 7.5 (47) to 1.1 (7).
To compound the loss, consistent goal-kicker Steph Dalton injured her hand, after again kicking her team's sole goal.
The growth of the Grange Residential I-Grade continues to amaze, this time driving their way to a remarkable 11-point win over the well-established Fremantle CBC Gold.
Juilian Miller kicked three goals and in concert with Sam Rowan and Kieran Murphy steered the Beach to a brilliant win.
Hybrid Linings D1-Grade
North Beach      1.0         7.4         8.5         10.12    72
Wanneroo         0.1         0.1         0.2           2.2       14
Goals – North Beach: Zehnder 3; J Cameron, Hughes 2; Seaton, Mesiti, Miotti.
Best – North Beach: Hall, Mesiti, Fitzroy, Dunjey, S Duckworth, Zehnder.
Coast to Coast Imports D1-Grade
North Beach      7.3         11.4       16.6       21.8       134
Wanneroo         0.1         2.1         2.1          2.1         13
Goals – North Beach: Lloyd 8; Christie 5; Bowden 3; Wickstein 2; Golding, Henderson, Allison-Green.
Best – North Beach: M Humphrey, Lloyd, Wickstein.
Beyond Tools E1-Grade
Coolbellup         5.5         13.10    17.13    19.12    126
North Beach      0.0           4.2         4.3         4.5         29
Goals – North Beach: M Rollo 2; Green, Anthony.
Best – North Beach: McComiskie, Anthony, M Rollo, Broad, Lazenby.
GJ Osplumb E3-Grade
North Beach      3.7         6.7         16.11    16.11    107
Piara Waters      2.0         4.0           5.2         5.2         32
Goals – North Beach: Emery 3; S Clark, Harrison, Gurney, J Cuzens 2; Panagopoulos, Marchin-Vincent, Liddiard, Winterton, Gomez.
Best – North Beach: Hack, S Clark, Gray, Emery, Gurney, Harrison, Dix.
Galleria Toyota A-Grade Women
University           2.1         4.4         5.4         7.5         47
North Beach      0.0         0.1         1.1         1.1           7
Goals – North Beach: Dalton.
Best – North Beach:
Grange Residential Integrated Rules
North Beach      3.4         4.4         7.6         7.6         48
CBC Gold            0.0         4.1         4.2         5.7         37
Goals – North Beach: Miller 3; Kelly 2.
Best – North Beach: J Miller, Murphy, Rowan.