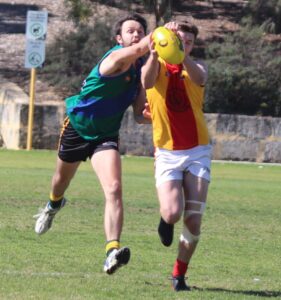 Emerging key forward Sam Zehnder was in rarefied air when he steered the Coast to Coast Imports D1-Reserves to victory over University at Charles Riley Reserve last Saturday.
With the game on the line against their respected rivals – the two clubs having won the last four premierships in this grade – it needed someone to step up and become the game breaker in the  qualifying final.
Perhaps sensing the moment, Zehnder kicked three goals in six minutes to split the game open, as North Beach advanced to the second semi with a pulsating 28-point victory.
Leading by just five points at the last change, the imposing performance by Zehnder ensured a Beach victory and the opportunity to challenge Curtin Wesley for a spot in the grand final when they meet tomorrow.
In each instance Zehnder marked on the lead, hands outstretched, a defender on his hammer as he locked his fingers in a vice-like grip around the footy. He then went back, took his set shot and with laser-like accuracy, delivered maximum pain on the Scholars.
While he was the difference when it mattered, the Beach was also well-served by Tully Wickstein throughout the match and he also bagged three goals, while Liam Hunter, Brendan Viney, Riley Duncan and Curtis Hogg were also important factors.
The Hybrid Linings D1-Grade could not carry that momentum forward with University reversing the result after another absorbing contest that again under-pinned the vast improvement at this level in recent seasons.
Clean ball use, well-drilled systems and a few classy individuals in both teams highlighted a match that was eventually secured by the Scholars – 7.7 (49) to 5.6 (36).
There was never more than a goal or two in it, but University finished a little better to get an appropriate return for the level of control they enjoyed through the midfield.
Captain Craig Hall maintained his wonderful form while Liam Pardini, Josh Tickner, Matt Seaton and Dean Wilson also wielded some influence.
The GJ Osplumb E3-Grade continued their energetic push at the back end of the season in another quality game that belies the grading.
They endured against a Snesa outfit that laid down the challenge with their speed and ball movement, particularly early in the contest, before the Beach advanced from this elimination final.
At this level, a top six system is in operation, and after a tight first half the Beach powered away to win by 39 points – 9.14 (68) to 4.5 (29). After the main break, the hosts rattled on 5.7 to just 1.2 to secure the victory.
Josh Cuzens was outstanding through the midfield, kicking three goals, while Joel Gray, Jake Marchin-Vincent  and Jake Hutchinson provided the edge in the midfield.
Hybrid Linings D1-Grade
Qualifying Final
University           1.2          3.2          6.4          7.7          49
North Beach       2.1          2.3          3.5          5.6          36
Goals – North Beach: McColgan 2; Desmond, Hall, Hinkley.
Best – North Beach: Hall, Tickner, Pardini, Seaton, Wilson.
Coast to Coast Imports D1-Reserves
Qualifying Final
North Beach       2.1          3.3          4.4          9.4          58
University           2.2          3.2          3.5          4.6          30
Goals – North Beach: Wickstein, Zehnder 3; Pow, Campbell, B Hinkley.
Best – North Beach: Hunter, Viney, Wickstein, Zehnder, Duncan, Hogg, Allison-Green.
GJ Osplumb E3-Grade
Elimination Final
North Beach       2.3          4.7          8.9          9.14        68
Snesa                    3.1          3.3          3.3          4.5          29
Goals – North Beach: Cuzens 3; Howie, Veroni 2; Harewood, Winterton.
Best – North Beach: Cuzens, Gray, Marchin-Vincent, Winterton, Hutchison, Harewood.