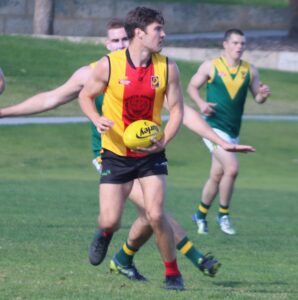 The O'Rourke Realty A-Grade went a long towards locking in a home first semi-final when they eclipsed their likely opponents, in a knock-out match on Saturday week, at Gil Fraser Reserve last week.
Barring a spectacular upset, the Beach will confront North Fremantle in the first final 10 days from now and will take confidence in that game after compiling a convincing 50-point victory – 14.17 (91) to 7.9 (51).
The Beach controlled the game for most of the day, with inefficiency in front of goal their biggest enemy.
Led by Dan Leishman, who has enjoyed an exceptional season, the Beach completed one of their most polished performances of the year.
The class of Dylan Campbell and Andrew McGuinness were also important factors while Matt Irvine was solid in defence with Travis Gray.
Inaccuracy was also an issue for the Lifenet A-Reserves, kicking a wasteful 1.9 in the opening quarter before correcting the issue to some extent on the way to an important 33-point victory.
Having lost for the first time a week earlier, the Beach responded with a solid performance and,  missed opportunities aside, confirmed their rating as the competition benchmark.
Michael Schofield was the dominant big man afield while Matt Raynor and Ben Sweeny were rock solid in defence, Peter Hiotis, Matt Power and Matt Holden imposed themselves physically and Mitch Cameron presented strongly up forward.
After an even first half the Plasterwise Phil Scott Colts controlled the game in the second half against North Fremantle, again consolidating second place on the ladder behind University.
Momentum is building for the team and after trailing by three points at the main break, they rattled  on seven goals to three to win 10.9 (69) to 7.5 (47).
Jack Stevens was typically tough in the contest, Caiden Eaton continued to provide a target up front and kicked three goals, while Travis Burton and Blake Sawyer were also strong contributors.
The solidarity shown by the Indi Brett Jones Colts all year has been incredible and it reached an apex on Saturday. After a difficult week in which the boys lost their chance at finals due to a player registration error it would have been easy for this group to throw in the towel.
Swan Athletic are a team on the rise and in blustery conditions it was tough from the get go. Our boys failed to score against the breeze in the first quarter and were being comprehensively beaten in the midfield battle.
We went into the main break nearly five goals down, but despite the margin, there was no way the boys were going to bow out like meekly and the resolve that had defined this group all year came to the fore.
North Beach fought tooth and nail and won the third quarter against the breeze after brilliant goals to Rhys Irvine and Alex Thompson.
With it all to play for in the fourth and our boys piled on another two goals to come within one for victory. The ball lived in the North Beach forward half and every entry came agonisingly close to providing that winning goal but unfortunately it did not materialise.
With second spot and a home final sewn up, the Hybrid Linings D1-Grade players may have subconsciously relaxed and never really took the game on.
Although the effort and intensity was there, the game was played in a safe manner and the opposition ran smarter and moved the ball with better skills, as University out-pointed the Beach to win by 43 points.
In his 200th game, Michael Duckworth led a fantastic backline effort and it was purely the weight of numbers that overwhelmed the back six on the scoreboard. One on one, Michael used all his experience and tenacity to fly the flag in the defensive arc.
Up forward, Riley Hinkley worked tirelessly to be a real focal point and worked hard both in the air and on the ground. Craig Hall and Alex Coleman led a midfield unit that was beaten on the day and will need to really step up this week.
The Coast to Coast Imports D1-Reserves match produced a similar result against University, with the Beach falling to a 22-point loss.
The Beyond Tools E1-Grade found the challenge of competing against the top team in the competition too much to bear despite the added incentive of celebrating two major milestones.
Brett Anthony became the second player behind Ian Tester to play 400 games for the club while Paul Cavanagh notched up his 200th. Despite the inspiration, Swan Athletic carried too much firepower and won 14.13 (97) to 6.7 (43).
The GJ Osplumb E3-Grade locked down third position on the ladder with a remarkable victory over Kalamunda.
After conceding the first four goals of the game, the Beach responded through the likes of Julian Gomez, Tim Harewood, Mitch Clarke and James Winterton to complete a powerful finish to the qualifying rounds.
Unfortunately, the season ended for the Galleria Toyota A-Grade women with West Coast scoring a last gasp goal to deny them by two goals.
While it was deflating loss, the women can again hold their heads high. Typically, they were led by Ash Pianto, Sally Ford, Stephanie Ball and Taylisha Brown, while Sarah Coseleto, the team's most reliable goal-kicker, booted home two of the team's three goals.
Olivia Hongell, Jen Harris and Olivia Stewart were also strong contributors.
Match Details
Round 17
O'Rourke Realty A-Grade
North Beach       4.3          6.8          8.16        14.17     101
North Frem         0.3          2.5          4.7            7.9          51
Goals – North Beach: Leishman 3; McGuinness, Gill, Campbell 2; N Dwyer, J Stott, M Dwyer, Lamont, Bottechia.
Best – North Beach: Campbell, Leishman, McGuinness, M Dwyer, M Irvine, Gray, Cranley.
Lifenet A-Reserves
North Beach       1.9          2.11        4.13        6.13        49
North Frem         0.0          1.3         1.4          2.4          16
Goals – North Beach: M Cameron 3; Johnson, Wells, Hiotis.
Best – North Beach: Schofield, Raynor, Hiotis, Sweeny, Power, Holden, Cameron, Hoskins.
Plasterwise Phil Scott Colts
North Beach       2.3          3.5          8.6          10.9        69
North Frem         1.1          4.2          4.3            7.5        47
Goals – North Beach: Eaton 3; Davidson, Wells 2; Sawyer, Burton, Boylan.
Best – North Beach: Eaton, Stevens, Sawyer, Burton, Webster, Corbett, Merson.
Indi Bar Brett Jones Colts
Swan Athletic     3.3          6.5          6.7          6.8          44
North Beach       0.1          2.2          4.5          5.10        40
Goals – North Beach:  Thompson 2; Rose, Kuppens, Irvine.
Best – North Beach: Pollard, Dix, A Thompson, Emery.
Hybrid Linings D1-Grade
University           2.5          3.7          6.10        9.10        64
North Beach       0.0          1.1          2.1          3.3          21
Goals – North Beach: McColgan 2; C O'Connell.
Best – North Beach: R Hinkley, M Duckworth, Hall, A O'Connell, Collins, Coleman.
Coast to Coast Imports D1-Reserves
University           3.0          3.3          6.5          8.9          57
North Beach       0.2          2.3          4.4          5.5          35
Goals – North Beach: Bowden, Pow, Mesiti, K Campbell, Christie.
Best – North Beach:
Beyond Tools E1-Grade
Swan Athletic 14.13 (97) def North Beach 6.7 (43)
Goals – North Beach: Green, M Evans 2; Anthony, D Gardiner.
Best – North Beach: Evans, Staniforth, Tait, Jacobs, Gray.
GJ Osplumb E3-Grade
North Beach       0.3          2.4          3.7          8.12        60
Kalamunda         4.3          4.5          6.6          7.7          49
Goals – North Beach:
Best – North Beach: Gomez, Harewood, Clarke, Winterton, Veroni, Collins, Samuels.
Galleria Toyota A-Grade women
First semi-final
West Coast         1.2          1.4          1.4          2.8          20
North Beach       1.0          2.0          3.0          3.0          18
Goals – North Beach: Cosoleto 2; Ford 1.
Best – North Beach: Pianto, Ford, Ball, Brown, Hongell, Harris, Stewart.