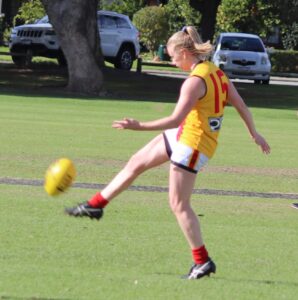 True competitors have an innate dislike of running second. Especially in a two-horse race.
No one ever enters the contest thinking about anything except winning. The mind's eye always visualises a way – even when the odds are stacked heavily against them.
For the Project Ceilings A-Grade women last Saturday, there is no way the likes of Tess Anderson, Ash Pianto, Clare Dickson  or Lou McKenry were thinking about anything other than victory when they ventured to Shelley Park to play Rossmoyne.
The Rhinos might have been below them on the ladder, but the odds were stacked in favour of the hosts.
North Beach travelled south with a bare 18 players. Such had been the attrition rate through injury over recent weeks that numbers were skinny across the club's two teams.
But these women have always been committed. And they were again.
The opposition had four extra players and it became five when the Beach's mortality rate grew with Lauren Hutton suffering concussion after a hotly-contested ball in the final term left her dazed.
Rossmoyne had a slight edge in class too and that enabled them to win 4.7 (31) to 0.2 (2) despite the refusal of North Beach to yield. They fought it out bravely, but were simply overwhelmed in the end.
Anderson was prolific through the midfield, Pianto tried everything within her capacity to lift the team, Dickson provided energy and run while Kate Shearman, Kelli Elliss and Alice Di Vicenzo were also outstanding.
Despite the result, the progression of this female squad has been profound. Their skill execution and football IQ has developed nicely and along with the unity and passion that has been with them throughout their short journey, it is evident that results will soon match their love of the game.
While the A-Grade game produced a disappointing outcome it was an even more difficult scenario for the Peak Body Fitness C4-Grade, who ventured to Wanneroo who confronted a team chock full of players of greater experience.
Details
Project Ceilings A-Grade Women
Rossmoyne 4.7 (31) def North Beach 0.2 (2)
Best – North Beach: Anderson, Pianto, Dickson, Shearman, Elliss, Di Vincenzo.
Peak Body Fitness C4-Grade Women
Wanneroo 11.1 (77) def North Beach 0.1 (1)