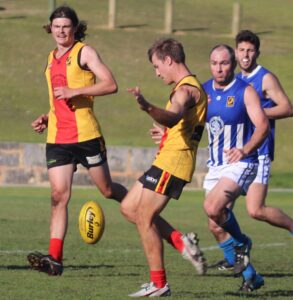 One of the favourite clichés trotted out by football aficionados suggests that 'you're only as strong as your weakest link.'
North Beach is clearly in good shape if that maxim rings true, because the Lifenet A-Reserves, Hybrid Linings D1-Grade and Coast to Coast Imports D1-Reserves have powered through the first six rounds undefeated.
The club boasts unprecedented depth with players in all of those grades pushing for selection in grades above them.
Tomorrow, the D1-Grade and the D1-Reserves, face possibly their biggest challenges of the year – against University at McGllivray Oval.
The Scholars are also unbeaten in both grades and have the benefit of playing on home turf.
D1-Grade coach Glen Hinkley has his team humming, but obviously the structure of his side is affected by the happenings at the selection table for those teams above him.
It has to be about the systems rather than the personnel, adjusting according to those available.
If that is the case for the third grade team then it is even more applicable for Chris Humphrey and his D1-Reserves. The depth on offer at the club is exciting and they will be excited about the prospect of confronting their toughest assignment of the year.
The Beyond Tools E1-Grade will get the chance to consolidate a position in the top five when they meet Kingsway at Kingsway Reserve, while the GJ Osplumb E3-Grade face the challenge of Kalamunda up the hill.
The Indi Bar Brett Jones Colts have got the ball rolling in recent weeks and will also be looking to take a positive step forward when they play Curtin Wesley at South Oval.
Their game will be preceded by an important clash for the Galleria Toyota A-Grade women who play last year's premiers. The Beach lost their first game for the year last week and that should have them ready to confront Curtin Wesley.
The Grange Residential I-Grade will enjoy another unique experience when they play Wembley at Steel Blue Oval.