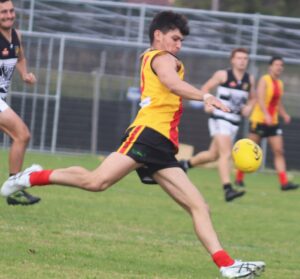 It's a big day at the Beach tomorrow. How big you ask? Eight games big!
Yes, eight of the club's 10 teams will playing at Charles Riley Reserve in what looms as a momentous occasion for the club.
It will start at 9.30am with the Galleria Toyota A-Grade women taking centre stage and finish with a 5pm bounce down for the Grange Residential Integrated Rules.
Sandwiched between those games on the main oval will be the A-Grade matches while on the second oval the third, fourth and sixth grade teams will do battle. It's an absolute feast and promises to be a great day.
Naturally, the show-case event is the O'Rourke Realty A-Grade who will be looking to consolidate a place in the top three of a tight competition that sees two games separating second and sixth. And only one game between the Beach and Kingsway, who sit out of the top five only by percentage.
After the euphoria of last week, it's a case of quelling the emotion and knuckling down once again to get the job done against Trinity Aquinas.
The Boomers have slipped off the pace to some extent, but they are a dangerous foe and with some class on their list they represent a serious challenge.
Ryan Murphy remains a star of the competition, an elite kick for goal, while Kane Ransted, Luke Salamone, on the West Coast WAFL list, and Simon Franich are all quality players.
The Beach will also enjoy an influx of high quality individuals with Travis Gray and Blake Piggott expected to return.
The Lifenet A-Reserves will look to re-start the cycle after an undefeated run in the first round of nine matches. It started against the Boomers in round one and ended last week against North Fremantle.
Remarkably after such a dominant run, they remain just one game ahead of second-placed University – albeit with a sizeable percentage advantage as well.
One of the pleasing aspects of the team's performance is that despite the obvious lure of playing senior football, they have remained focuses on playing their role, setting aside selfish interests.
The Plasterwise Phil Scott Colts will follow the women's game and the show-down with Trinity Aquinas could have significant ramifications deeper into the season.
The Beach sits in third spot, just two points clear of the Boomers and victory would go a long towards establishing the opportunity for an all-important double chance.
The teams playing off-site also have big games, with the Indi Bar Brett Jones Colts clashing with Whitfords at MacDonald Reserve and the Beyond Tools E1-Grade playing a night game against Kingsley.
Round 10
O'Rourke Realty A-Grade
North Beach v Trinity Aquinas, Charles Riley Reserve, 2.45pm
Lifenet A-Reserves
North Beach v Trinity Aquinas, Charles Riley Reserve, 12.50pm
Plasterwise Phil Scott Colts
North Beach v Trinity Aquinas, Charles Riley Reserve, 10.55am
Galleria Toyota A-Grade Women
North Beach v Rossmoyne, Charles Riley Reserve, 9.30am
Hybrid Linings D1-Grade
North Beach v North Fremantle, Charles Riley Reserve (2) 1.15pm
Coast to Coast Imports D1-Reserves
North Beach v North Fremantle, Charles Riley Reserve (2) 11.15am
Indi Bar Brett Jones Colts
Whitford v North Beach, MacDonald Reserve, 4.45pm
Beyond Tools E1-Grade
Kingsley v North Beach, Kingsley Park, 6.15pm
GJ Osplumb E3-Grade
North Beach v Cobras, Charles Riley Reserve (2), 3.15pm
Grange Residential I-Grade
North Beach v High Wycombe, Charles Riley Reserve, 5pm