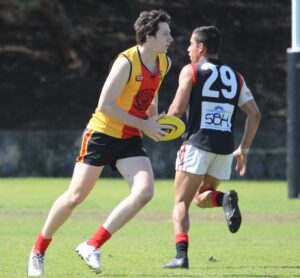 The depth of the talent pool at North Beach has been obvious through the pre-season, into the practice matches.
Highly credentialed established players competing for their places at all levels.
That rich vein of class permeated all grades, but was manifested in the third and fourth grade teams. Outstanding senior players of long-standing, exciting young players looking to work their way into senior ranks, players of  various, sizes shapes and attributes who would not be out of place in higher grades, were on show in abundance.
This was round one of a long season, so there is ample time for promotion through the ranks and many started positively, building the first chapter in a book of form that could lead to elevation.
The Hybrid Linings D1-Grade made a fantastic start to the season over a young and experienced opposition, defeating Wembley by 144 points.
The ruthless Beach rattled on 10 goals to none in the final term to finish off a near flawless display.
The first half promised to be a blowout, but with a flukey breeze, the Tigers could not hit the big opening and went to the main break leading 9.11 to 2.1.
Nathan Adler had already kicked 4.5 and was looking in ominous form – he just needed his radar to straighten up and he was heading for a bag. Andy Langsford set the standard early with his attack on the ball across half back, his running and kicking a feature.
In the middle, Ryan Clapham and Alex Coleman were dominating the ruck and Caolan O'Connell and Jayden Black were thriving and getting their hands on the ball first.
Adler found his radar, sitting on eight goals at the last break. Nathan Torre, who had a late start to the preseason with cricket commitments, was warming to the task and was looking dangerous across half forward and deep in the 50.
The last quarter belonged to Adler as he kicked another four to finish with 12 goals. He was fed brilliantly out of the middle by O'Connell, Craig Hall, Adam Miotti and Jacob Desmond. Mark Foreman also feasted on the supply and kicked six goals.
The Coast to Coast Imports D1-Reserves also produced a polished performance, eclipsing Wembley by 68 points.
Set in motion by the ruck work of Ben De Rosa, the Beach established their superiority with Michael Chaffey also wielding a strong influence through the middle. When Wembley managed to push forward, the work of the defensive group was outstanding.
That allowed the Tigers to successfully implement its press, while Callum Dunjey set a high water mark through the middle, Mitch Christie produced a master class in forward play while Aaron Miller exerted a strong influence and youngsters like Hayden Pow and Jaxon Lloyd showed their wares.
The Indian Ocean Hotel Brett Jones Colts continued something of a rivalry that has built over the last couple of years before falling five points short against Whitford, losing 6.9 (45) to 7.8 (50) after another absorbing battle.
In what was a re-match of the preliminary finalists from 2018, little separated the teams from the outset.
The Beach had the breeze in the final term, but conceded the first three goals before clawing their way back.
With a minute remaining, Bateup almost held on to tough mark, but couldn't bring it down. The Beach was brave in defeat, ably led by Noah Cahill, Zach Salleo, Mark Craig, Ben Tindall and Leighton Gurney.
The Beyond Tools E1-Grade was engaged in a tight  battle against Kingsley all day, unfortunately fading as the opposition rattled on four final-quarter goals to establish a six-goal margin.
The Beach was without coach Novak Smith in the second half, detaching the bicep off his right arm in a disappointing downlight to the day.
While slipping to a loss, the Beach was highly competitive with Jay Allison-Green, Aaron Ugle and Richie Nguyen doing their best to elevate the team to victory.
The GJ Osplumb E3-Grade also suffered a tight loss, being overrun in the final term on the way to a 8.19 (67) to 8.4 (52) loss.
The young Beach team could not overcome their more experienced Melville opponents who rattled on 3.12 in the last term as they dominated proceedings with the aid of a strong breeze. In the second term when the visitors kicked with the wind the Beach held them to just seven behinds, but could not contain them in the last stanza.
Paul Nathan and Corey Bruse kicked all of the Beach's goals between them, but could have enjoyed more opportunities in the final quarter.
A number of colts players pushed up to play, showing their level of commitment to the club at this early stage.
Hybrid Linings D1-Grade
North Beach       3.5          9.10        15.12     25.14     164
Wembley            0.0          2.1            3.1          3.2          20
Goals –  North Beach: Adler 12; Foreman 6; Torre 2; Desmond, Hinkley, Wickstein, Hall, Henderson.
Best – North  Beach: Adler, C O'Connell, A Langsford, Foreman, Torre, Black.
Coast to Coast Imports D1-Reserves
North Beach       4.6          5.9          7.9          12.11     83
Wembley            0.0          1.1          1.2            2.3        15
Goals – North Beach: Christie 3; Cahill, Lloyd, Hughes 2; Miller, Cameron, O'Connell.
Best – North Beach: Dunjey, Christie, Lloyd, Chaffey, Pow, Miller.
Indian Ocean Hotel Brett Jones Colts
Whitford              2.2          3.4          4.6          7.8          50
North Beach       0.4          3.8          4.9          6.9          45
Goals – North Beach: Irvine 2; Hambleton, Bateup, Osborne, Cox.
Best – North Beach: Cahill, Salleo, Craig, Tindall, Gurney.
Beyond Tools E1-Grade
Kingsley               2.2          5.3          8.8          12.9        81
North Beach       1.2          3.4          6.6          6.9         45
Goals – North Beach: Ugle, Bowden 2; D Gardiner, Manea.
Best – North Beach: Allison-Green, Nguyen, Ugle.
GJ Osplumb E3-Grade
Melville                2.0          2.7          3.7          8.19        67
North Beach       2.1          3.1          6.2          8.4          52
Goals – North Beach: Nathan 5; Bruse 3.
Best – North Beach: Thompson, Nathan, Panagopoulos, Bruse, I Tester.