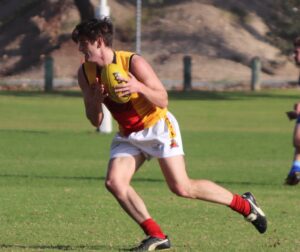 Oooooh, the lot a lower grade coach. One eye on development, the other on victory.
One week you celebrate a momentous, perfect execution, marvel at the talent at your disposal. It's the opening round, but your mind opens up to the possibilities. You know you shouldn't, but the human mind takes some mastering.
So, after a 25-goal win in the season opener Hybrid Linings D1-Grade coach Glenn Hinkley had every reason to be chuffed. Every man won his position, he had young blokes like forward Nathan Adler kicking a dozen goals, old blokes (sorry Andy this is relative) like Andy Langsford giving a clinic to  those his junior.
Then…it's the next Thursday. Selection night. Player magnets are stripped from Hinkley's board like mag wheels in the Bronx. He knows who's knocking them off, but he's powerless.
Injury and unavailability in the Lifenet A-Reserves and the O'Rourke Realty A-Grade have the knock on effect. Hinkley must make nine changes. He understands that's the role, but he needs to replace half a team.
So he does that, goes to Bill Grayden Reserve, home of Trinity Aquinas. The postage stamp.
It's a different scenario with so many changes against a highly respected opponent. The North Beach threes carve out a satisfying five-point win; in context the 9.7 (61) to 7.13 (55) win is more enjoyable than the rollick seven days earlier.
They did it despite falling asleep at the wheel in the second term, opening the door for the Boomers.
The Beach blasted out of the blocks in the first term, kicking four goals, with Tully Wickstein and Josh Cameron kicking clever goals after George McColgan crashed a couple of packs.
McColgan then took a mark after a strong lead and kicked truly. Craig Hall added the finishing touch to a great running goal after weaving through traffic. The Beach coach expected a response from TAs and he was not surprised.
Unfortunately, the young players may have thought the result was a formality, the Beach lost  intensity around the stoppages and were given a lesson by the older, bigger-bodied opposition. Without the strong efforts of Liam Pardini, Shane Duckworth and Aran O'Connell in defence, the margin could have been reversed.
The midfield was challenged in the second half and responded, taking control of the centre clearances and as a result, kicked three quick goals. Alex Coleman dominated the ruck, Jacob Desmond and Josh Tickner got their hands on the footy first and pumped the ball forward at will. Jaxon Lloyd was on the end of one of these and kicked his first goal and McColgan continued his aggressive work in the forward 50 and soon after had his second on the board.
Liam Pardini was again reliable across half back and with Michael Collins and Richie Nguyen they repelled a lot of TAs forward sorties.
Leading by 15 points at the last break, but kicking into the breeze was always going to be a challenge. Coleman stood up in the ruck, took some strong pack marks around the ground and the back six kept their opponents under wraps for the most part.
The midfield worked tirelessly to win the ball forward into the wind and small forwards Josh Cameron and Mitch Christie both kicked terrific crumbing goals to ensure victory.
While Hinkley had issues, the Coast to Coast Imports D1-Reserves were also hit with sweeping changes.
Again Chris Humphrey and his team accepted the challenge and responded with a solid 24-point win, 8.9 (57) to 5.3 (33).
Rhiordan Hughes was a constant threat up forward, kicking four goals, while the class of Sam Cahill and Mitch Evans was important.
The Indian Ocean Hotel Brett Jones Colts faced formidable opposition, Fremantle CBC on their home deck at Morris Buzzacott Reserve, and it proved insurmountable.
The Beach competed hard in the opening term, with stand-out performances from Tom Dix and Josh Artaud, the result being a tight first stanza that saw the Tiger cubs trailing by just two goals at the break.
Another goal to Artaud to start the second quarter had the Beach well and truly in the hunt, but unfortunately CBC then took charge, broke the resistance and carried far too much arsenal to score a commanding 87-point win.
Unfortunately, the deeper the talent pool was tested the tougher it got.
The Beyond Tools E1-Grade, who will consistently meet quality opposition from smaller clubs, matched it to some extent with the highly-regarded CBC.
It was a tough game with 14 changes from round one and only four players from the 2018 grand final team playing against the team that conquered them on footy's biggest day.
The opening term was tight, but CBC got a few breaks, including some 50-50 calls, and combined with some loose goal line defence, the Beach was on the back foot.
The effort was solid, with eight players playing their first game off limited – or any – preparation. There were some good signs, despite a 38-point loss, with some players from 6s getting an opportunity to perform well in the higher grade. There is plenty to work on but coach Novak Smith is confident the team is heading in the right direction.
Jacob Willis, Tjaard Tait, Matt Evans and Kim Thompson all performed for the Beach.
The GJ Osplumb E3-Grade encountered another quality opponent (their club's third grade side) and could not match Snesa on their home deck – going down 17.10 (112) to 1.1 (7).
In the first half the Beach was competitive, produced some exciting passages, but could not finish with the scoreboard presence they sought.
Snesa, conversely, were efficient on the counter attack, and opened up the Beach's defence.
Nick Barker, Joel Gray, Matt Paddick and Mackenzie Cox worked against the odds to put in strong performances for the Beach.
The Grange Residential Integrated Rules team had their first hit-out of the season and it was always going to be a challenge against CBC Fremantle gold.
The Beach is embarking on its second season in the competition while CBC has been the benchmark for many years and that experience showed in a 14.11 (95) to 2.2 (14) victory.
The Beach never stopped trying and kicked their two goals in the final which was a credit to the entire team.
Round 2 results
Hybrid Linings D1-Grade
North Beach       2.1          4.4          7.6          9.7          61
Trinity Aquinas  0.1          4.2          5.11        7.13        55
Goals – North Beach: Cameron 3; McColgan 2; Christie, Lloyd, Hall, Wickstein.
Best – North Beach: Pardini, Hall, Coleman, McColgan, Tickner, S Duckworth.
Coast to Coast Imports D1-Reserves
North Beach       2.2          4.4          6.5          8.9          57
Trinity Aquinas  0.2          1.2          2.2          5.3          33
Goals – North Beach: Hughes 4; Cahill, Cavanagh, Evans, Pow.
Best – North Beach: Hughes, Evans, Cahill.
Indian Ocean Hotel Brett Jones Colts
Frem CBC             2.4          7.6          13.6        17.12     114
North Beach       0.1          1.1          4.3           4.3          27
Goals – North Beach: Artaud 2; Bateup, Tindall.
Best – North Beach: Dix, Artaud, Mortimer, Thompson, Hodge.
Beyond Tools E1-Grade
Fremantle CBC 10.10 (70) def North Beach 4.4 (28)
Goals – North Beach: Bowden 2; Matt Evans, D Gardiner.
Best – North Beach: Willis, Tait, Thompson, Matt Evans.
GJ Osplumb E3-Grade
Snesa 17.10 (112) def North Beach 1.1 (7)
Goals – North Beach: S Clark.
Best – North Beach:Barker, Paddick, Ibrahim, Cox, Gray, S Clarke.
Grange Residential Integrated
Fremantle CBC Gold 14.11 (95) def North Beach 2.2 (14).