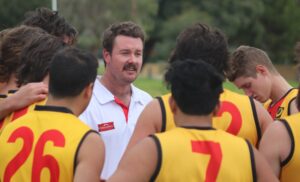 Through recent seasons, in fact as far as one's memory can trace, University has been the benchmark in the third and fourth grades of the PFL.
So, after solid round one victories, the Hybrid Linings C5 and Beast Carpet Cleaning C5-Reserves viewed last Saturday's games as something of an early season litmus test.
It proved a test they both aced, the C5-grade winning 13.12 (90) to 7.3 (45) and the C5-Reserves dismantling the opposition to win by 15 goals.
A blistering start by the C5-Grade, with complete domination in the middle, blew the Scholars out of the water and they never recovered.
Ruckman Riley Hinkley again gave his mids silver service and the likes of Tim Edwards, Jayden Black and Kahlil Campbell took full toll of the dominance, continually pumping the ball forward.
By quarter time the Beach enjoyed a four-goal buffer, never relented and by game's end had doubled the score of the 2020 premiers.
The back six were again very good and constantly repelled Uni's best efforts. Jamie Bennett continued his strong start to the season and took a lot of intercept marks while Shane Duckworth kept the big forwards quiet all game and Matt Seaton did a terrific stopping job on a key University play-maker.
Up forward, Sam Zehnder and Jordan Brooks were dangerous all day and Callum Corbett caught the crowd's eye with some blistering solo runs that set up shots at goal.
Earlier the C5-Reserves were even more commanding, holding University goal-less on the way to a whopping 14.11 (95) to 0.5 (5) victory.
With the Cameron brothers – Mitch and Josh conducting the orchestra and kicking seven goals between them – the Beach had a dual-pronged attack that caused University all manner of issues.
They capitalised on the work of experienced work horses Trevor Lang, Cam Alco and Alex Luck while the influence of younger players like Conor Hingston and Mitch Tobin was pleasing.
The Indian Ocean Hotel Brett Jones Colts also notched up a strong win against a respected foe, despatching Fremantle CBC 13.8 (86) to 5.5 (35).
Rhys Irvine and Jonas Rocke kicked seven goals between them while Josh Murphy and Tom Emes were important contributors.
The Beach were always in control, building on an eight-point advantage at quarter time to increase the lead at every change on the way to an emphatic 51-point victory.
Despite going down to Bassendean, the Beyond Tools E2-Grade played with great purpose and resolve, leaving coach Novak Smith in a positive frame of mind in the face of the defeat.
The foundations are strong, there were good signs in terms of commitment and cohesion against a team that was premiers last year.
Unfortunately for the GJ Osplumb E3-Grade they found Kalamunda a little too classy and lost by 76 points.
The Grange Residential Integrated Rules team confronted competition standard-bearer CBC Fremantle in their opening game of the season and also found them insurmountable.
Results
Hybrid Linings C5-Grade
North Beach       5.4          7.7          11.9        13.12     90
University           1.0          4.0          6.2           7.3        45
Goals – North Beach: Brooks, Zehnder 3; Hall 2; Corbett. Seidner, Cuzens, Dolling, Edwards.
Best – North Beach: Bennett, Edwards, Corbett, Black, Seaton, Campbell.
Beast Carpet Cleaning C5-Reserves
North Beach       2.3          5.5          10.8        14.11     95
University           0.1          0.2            0.5          0.5          5
Goals – North Beach: M Cameron 4; J Cameron 3; Cahill, Tobin 2; Hunt, McAuliffe, Rollo.
Best – North Beach:
Indian Ocean Hotel Brett Jones Colts
North Beach       3.4          7.4          9.5          13.8        86
Fremantle CBC  2.2          2.3          5.3          5.5         35
Goals – North Beach: Irvine 4; Rocke 3; Smith 2; Greaves, Jones, Male, Orr-Young.
Best – North Beach: Murphy, Emes, Irving.
Beyond Tools E2-Grade
Bassendean       2.4          5.6          9.9          11.9        75
North Beach       1.3          3.4          6.5          8.9          57
Goals – North Beach: Kuppens, Bryce 2; Williamson, Wilson, Bowden, Fullerton.
Best – North Beach: Cooke, Williamson, Sadler, Bryce, Wilson, Njegich.
GJ Osplumb E3-Grade
Kalamunda 13.19 (97) def North Beach 3.3 (21)
Grange Residential I-Grade
Fremantle CBC  3.2          6.3          8.3          9.4          58
North Beach       1.0          1.0          3.1          3.1          19