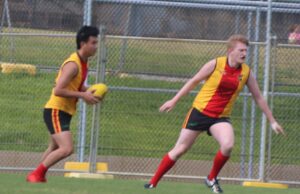 Building belief and trust within a team comes through meeting the challenges against quality opposition.
The Hybrid Linings D1-Grade has been acquiring those traits over recent weeks, even in competitive losses to leading teams Fremantle CBC and University.
But there's nothing quite like a big scalp and the Beach chalked one up against North Fremantle after a quality performance at Charles Riley Reserve on Saturday powered them to a 39-point victory – 9.12 (66) 3.9 (27).
After a tight first quarter, North Beach's confidence grew and they kicked 8.9 to 2.6 in the final three quarters to get the win they craved.
The threes knew they would have to weather a typically aggressive North Fremantle side before their run and carry would overwhelm the bigger Maggies' bodies. And they executed the plan perfectly.
Captain Craig Hall continued his incredible season and with his discipline, poise and fearless attack on the ball, showing his younger midfield teammates how to win the hard ball and ignore the niggle.
As a result, Callan Dunjey, Matt Seaton and Ernie Dwyer followed their skipper and took complete control of the stoppages. On his wing, Josh Stott complimented the mids with his skill level and his hard running to provide a defensive outlet.
He then transitioned the ball from defence to attack with his precise kicking.
Up front, Josh Cameron, Ryan Hart and Rio Hughes were dangerous but it was in the back half that the Beach really turned the game on its head. Every time North Fremantle ventured forward, they were met with a wall of resistance.
Jacob Fitzroy – a late call up – made the most of his opportunity and played his best game of footy in the threes with a strong defensive display; Lucas Gardiner was terrific both in the air and at ground level and Richie Nguyen completely nullified the opposition's best small forward.
After a slow start, conceding two early goals against North Fremantle, the Coast to Coast Imports did not concede another on the way to a convincing victory – 12.10 (82) to 2.7.
The Beach kicked nine unanswered goals after quarter-time, took controlled aggression into battle and carried too much fire-power for North Fremantle.
Tyler Hurley was outstanding while Liam Hunter and Brendan Viney were also shining lights.
The Indi Bar Brett Jones Colts were keen to avenge an early season loss to Whitfords and that came with a measured, clinical performance at Macdonald Reserve.
The lights were on, the crowd was swelling and rain was storming in horizontally. The stage was set for an absolute classic between North Beach and Whitfords.
The Beach boys, relishing the occasion, were on from the first bounce and began to hunt the footy in ravenous packs. Bolstered by the return of Jack Stevens for his first game of the year after a long term injury, the North Beach midfield was relentless.
Mitch Tobin slammed home two brilliant first quarter goals and Brad Hambleton got off to a bright start at full forward. Josh Roberts was loving the rain and took a brilliant hanger right in front of the bench to prove you can catch a bar of soap in the wet.
By half time North Beach were five goals up and we didn't look back. Our defenders held up magnificently in the third against a howling breeze to deny Whitfords any major scores and set us up for a fourth quarter in which the Tigers stormed home to run out nine goal winners.
For the Beyond Tools E1-Grade, it was a tough night at Kingsley Reserve, playing in the worst of the day's conditions.
It was a challenging day at the office in terrible conditions. The effort could not be questioned but the Beach was not as clean with the footy in the wet. It was one of those days where things just didn't quite fall into place.
The GJ Osplumb E3-Grade sensed an opportunity to build their percentage and achieved that with a brilliant performance that resulted in a 94-point win over Cobras.
They were as clean and efficient as any team on the day, finishing off their work with some classy efforts around goals, led by James Winterton, Pierce Rollo, Mitch Clarke and Sam Harrision.
Down back Peter Panagopoulos held things together with Brad Weir while Clarke and Jack Collins were ustoppable while Jake Hutchison was a handy inclusion.
Results
Hybrid Linings D1-Grade
North Beach       1.2          4.6          7.7          9.12        66
North Frem         1.3          3.5          3.8          3.9          27
Goals – North Beach: J Cameron, Hart, Hughes 2; Alco, Christie, Dunjey.
Best – North Beach: Hall, Stott, Fitzroy, Gardiner, Nguyen, Dunjey.
Coast to Coast Imports D1-Reserves
North Beach       3.3          7.5          8.7          12.10     82
North Frem         2.0          2.1          2.1            2.7        19
Goals – North Beach: Bowden 3; Gray, Hunter, Lloyd 2; Hogg, M Evans, Bryce.
Best – North Beach: Hurley, Hunter, Viney.
Indi Bar Brett Jones Colts
North Beach       4.2          6.6          7.7          9.11        65
Whitfords            1.0          2.0          2.2          2.2          14
Goals – North Beach: Tobin, M Rollo 2; Hambleton, Kuppens, Stevens, Persichitti, Hodge.
Best – North Beach: Roberts, Tobin, Hunt, Stevens, Hingston.
Beyond Tools E1-Grade
Kingsley 3.14 (32) def North Beach 1.5 (11)
Goals – North Beach: Clark.
Best – North Beach: Tait, Bramley, Dodd, Clark, Gelle.
GJ Osplumb E3-Grade
North Beach       8.1          12.4        14.7        17.9        111
Cobras                  2.0          2.0           2.2          2.5          17
Goals – North Beach: P Rollo, Winterton 3; Harrison, M Clarke 2; Charron, Fletcher, Hutchinson, Samuels, Collins, Veroni, Beard.
Best – North Beach: Clarke, Collins, Weir, Winterton, Marchin-Vincent, Hutchinson.