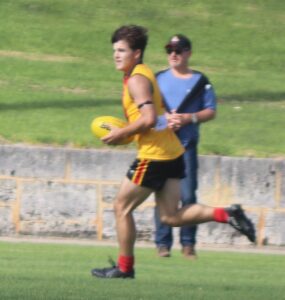 For the last month there seemed no respite. Every time the third and fourth grade teams took a breath and glanced forward, they saw another formidable opponent in wait.
When finally that run of challenges looked a little less daunting, the North Beach teams appreciated a drop in class and took full toll on Ocean Ridge.
In greasy conditions and under inadequate lighting, the Hybrid Linings D1-Grade took a quarter to settle before playing their best football.
They had nine scoring shots to none in the first term and they built on that assault, getting greater return for effort with more poise and better communication. The structures become more resolute and organised, the Beach kicking 14 goals to two in the final three quarters.
The midfield was led by Matt Power in his best game to date and his fellow midfielders Callan Dunjey, Cameron Alco and Caolan O'Connell thrived in the tough conditions. Aran O'Connell was once again impassable in the back half and Riley Hinkley, at centre half-forward, straightened the attack up, vital on such a wide ground.
Josh Cameron then capitalised on the dominance with six goals in a classy performance from a small forward.
The Coast to Coast Imports D1-Reserves also dominated all day, on the way to a 125-point romp against Ocean Ridge – 18.18 (126) to 0.1 (1).
After a wasteful 2.12 return from the opening term, they straightended things up and reaped the benefits of the outstanding work of players like Liam Hunter, Tyler Hurley, Mitch Christie and Sam Zehnder.
Jaxon Lloyd also flourished up forward, he and Zehnder kicking five goals apiece.
The Indi Bar Brett Jones Colts met competition benchmark, the undefeated Fremantle CBC, and were focussed on making amends for a 15-goal loss earlier in the year.
The Beach started strongly in blustery conditions and piled the pressure on the opposition in the first quarter. Unfortunately, inaccurate goal-kicking meant the Tigers only led by two points at quarter time.
CBC looked to take full advantage of the breeze in the second, adding a few goals to their tally, but an invaluable clutch finish from Mason Rollo from a long way out kept the Beach in the hunt.
Mitch Tobin slotted two of his team's three goals to take the Beach to the final change four points up. The North Beach defenders held up admirably against the breeze in the final quarter and repelled multiple thrusts from the opposition.
Unfortunately, they couldn't get it done at the other end of the ground and eventually CBC managed to break through with a couple of goals to take the lead and ultimately the match – 7.7 (49) to 5.9 (39).
The Beyond Tools E1-Grade gave a bold performance against Fremantle CBC, but had to settle for that glass half full/empty feeling of a draw.
It was another frustrating day at the office with a win gone begging. The slow start came back to bite the Beach, but they had plenty poof opportunities to win the game with the ball marked on the goal line three times in the last five minutes.
Jay Allison-Green, Michael Bramley, Tjaard Tait, Mason Procak and Zac Wood all wielded a strong influence for the Tigers.
Over the first two seasons, the Galleria Toyota A-Grade women have built a strong rivalry with Quinns Districts, with engaging, physical contests.
Last Saturday was no exception.
With an  early start on a wet track, the match didn't disappoint with the Beach midfielders – Steph  Ball, Ash Pianto and Sally Ford's ferocious attack on the footy – setting the standard from the first bounce.
The half time score didn't reflect the dominance, though strong defensive rebound from Taylisha Brown and skipper Ellen Duncan helped keep Quinns scoreless.
At the main break the pacey Sarah Cosoleto was swung into the midfield and Sally Ford pushed into attack to break a tag, both moves working to good effect. The forwards took advantage of plenty of supply inside 50, with Georgia Diaz and Ellie Merrett looking particularly dangerous upfront amongst an even spread of six goal scorers, breaking away to win by 38 points..
The next three games are likely to determine the Beach girls' 2019 fate.
A polished Kingway outfit carried too much arsenal for the Grange Residential I-Grade. They were ready to play from the first bounce and controlled the ball out of the middle to  provide numerous scoring opportunities  for their forwards.
The North Beach centres made some changes and were able to stem the flow in the second half with defensive manning up and a greater intent of pressure to the ball carrier.
A highlight was the mark and goal on the final siren for North Beach play-maker Ben Morley who will go in for heart surgery on the tomorrow – best of luck big fella!
Nick Hart and Sam Rowan continued their outstanding improvement with some strong marking and a goal each.  Other goal scorers were Mailey Kelly and Jake Parotte with one each and Chris Villers, who kicked two.
Hybrid Linings D1-Grade
North Beach      2.7         6.11       10.16    16.20    116
Ocean Ridge      0.0         1.0           2.0         2.0         12
Goals – North Beach: J Cameron 6; Duncan, Dunjey, Hall, Power 2; Alco, C O'Connell.
Best – North Beach: Power, Dunjey, R Hinkley, Hall, J Cameron, C O'Connell.
Coast to Coast Imports D1-Reserves
North Beach      2.11       9.14       14.15    18.18    126
Ocean Ridge      0.0         0.0          0.0         0.1           1
Goals – North Beach: Zehnder, Lloyd 5; Christie, B Hinkley 2; Evans, Humphrey, Green, Campbell.
Best – North Beach: Hunter, Hurley, Christie, Zehnder, Lloyd.
Indi Bar Brett Jones Colts
Fremantle CBC  1.3         5.4         5.4         7.7         49
North Beach      1.5         2.6         5.8         5.9         39
Goals – North Beach: Tobin 3; Persichitti, M Rollo.
Best – North Beach: Tobin, Pollard, Hingston, Emery, Passmore-Bush.
Beyond Tools E1-Grade
North Beach                                                  5.8         38
Fremantle CBc                                              6.2         38
Goals – North Beach: Tait, Green, Bowden, Rollo, Bramley.
Best – North Beach: Green, Bramley, Tait, Procak, Wood.
GJ Osplumb E3-Grade
North Beach      1.1         3.2         7.3         10.5       65
Jandakot            1.0         2.4         4.5           9.7       61
Goals – North Beach: N/A
Best – North Beach: Weir, Harewood, Gray, Quinn, Jacobs, Winterton.
Galleria Toyota A-Grade Women
North Beach      1.1         1.3         4.4         6.8         44
Quinns                0.0         0.0         1.0         1.0         6
Goals – North Beach: Lindsay, Merrett, O'Driscoll, Diaz, Ford, Dalton.
Best – North Beach: Ball, Pianto, Diaz, Ford, Merrett, Brown.
Grange Residential I-Grade
Kingsway            5.2         8.6         9.6         13.9       87
North Beach      2.0         2.0         5.0           7.0       42
Goals – North Beach: Willers 2; Kelly, Hart, Morley, S Rowan, Parotte.
Best – North Beach: Hart, S Rowan, Kelly, Morley, Willers.