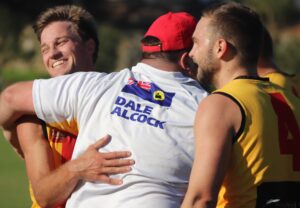 Premiership success is difficult to attain, regardless of the level, and the Hybrid Linings D1-Grade is the first of the North Beach teams aiming to reach the pinnacle in 2019.
They get that opportunity when they confront University in the grand final at Wanneroo Showgrounds tomorrow.
Throughout the season they have produced some quality football, arguably none better than the preliminary final victory against Fremantle CBC last Saturday, on the opposition's home deck.
The Beach produced a near flawless second half and will be looking to carry that form forward against a team that beat them a fortnight ago in the qualifying final.
They played with great spirit and commitment to defeat CBC, were buoyant after the success and will take some confidence into this clash.
Again Glen Hinkley will be looking to the experienced defensive heads of Shane and Michael Duckworth, Michael Collins and Liam Pardini to thwart the Scholars' advances while searching for midfield control.
Competition fairest and best and captain Craig Hall will look to lead by example, while Caolan O'Connell, Nick Marsh, Andy Langsford and Jacob Desmond will also need to stand tall.
Up forward George McColgan has been in fine form at the back end of the season and he will require support from Riley Hinkley.
While the third grade team will be fighting for a flag, the Plasterwise Phil Scott Colts will be looking to advance to next week's grand final when they play a familiar foe, University, at Millington Reserve.
Over the last four or five seasons North Beach and University have been the competition pacesetters and they might have expected to face off in the premiership play-off, but they both had a finals glitch and find themselves confronting each other a week early.
The Beach showed great resolve and concentration on the task when they eclipsed Wanneroo in the first semi-final and would look to replicate that powerful mindset.
Again, coach John Burton will look to his leaders to set the example; players like Judd Clinch, Conor Boylan, Caiden Eaton, Travis Burton and Madoc Plane.
They patrol different areas of the ground and will look to marshal their teammates to ensure there are no lapses against an opponent that commands great respect.
Fixtures
Hybrid Linings D1-Grade
Grand Final
University v North Beach, Wanneroo Showgrounds, 2.30pm
Plasterwise Phil Scott Colts
Preliminary Final
University v North Beach, Millington Reserve, 10.40am