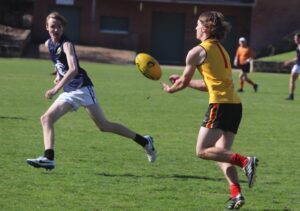 An unusual starting time with no game beforehand made for an unfamiliar pre-game environment for the Hybrid Linings D1-Grade.
Perhaps that scenario created an uncertain preparation as the players began to ready themselves for a contest, that on paper and season results, should have been a formality.
Whatever the reason, it did take North Beach a little time to adjust before slipping into gear and eventually winning by 69 points – 15.12 (102) to 5.1 (31), controlling the game against Wembley.
It took individual efforts in the first quarter from Cameron Alco, Callan Dunjey and skipper Craig Hall to light the fire which would ultimately hand the Beach a solid win in greasy conditions.
The usual suspects got going after quarter time with Jacob Desmond, Nick Marsh and Caolan O'Connell dominating the clearances and Michael Duckworth and Jacob Fitzroy cutting off everything down back. Josh Cameron was dangerous up forward despite playing with an injured hand.
Each quarter proved to be an improvement on the last with the Beach continually absorbing the first five minutes of pressure from their opponents before stamping their authority on the scoreboard.
The three late inclusions for the team were easily among the best performers relishing their opportunity to play at a higher level. Rio Hughes kicked six goals including a purple patch in the second quarter where he kicked half of them  in less than 10 minutes.
Ernest Dwyer applied his physicality to every contest and won the hard ball all day while Riley Duncan was prolific on the wing, kicking an early goal and being a key link man in the transition from defence to attack.
Unfortunately, word filtered through on game day that the Coast to Coast Imports D1-Reserves would have a day off because Wembley could not field a team.
The Indi Bar Brett Jones Colts produced a dominant performance against Collegians, winning 11.13 (67) to 3.1 (19).
They moved the ball with precision and purpose from start to finish, with the class of players like Alex Thompson, Ben Coghlan, Ben Hodge and Matt Lewis through the midfield presenting plenty of opportunities.
Up forward Rhys Irvine and Mason Rollo were a constant threat, particularly with a flood of clean entries, while Sebastian Passmore-Bush, Josh Roberts and Toby Spencer also wielded a strong influence.
Mark Craig was also impassable at half-back and used the ball efficiently as the Beach had winners all over the ground.
The Beyond Tools E1-Grade paid a price for a sluggish start on the way to slipping to a two-goal loss to West Coast.
The visitors dominated early, the Beach struggling to get their hands on the ball, but once they settled, were more than in the game.
Unfortunately, West Coast took heavy toll of their flying start, kicking out to a four goal lead before the likes of Liam Hunter, on a wing, Jay Allison-Green, Drew Shepley, Mark Sadler, ruckman Tjaard Tait and Steven Clark wrested back control.
After working their way back, they could not complete the assignment and lost 10.9 (69) to 8.9 (57).
The GJ Oslpumb E3-Grade continued their evolution and moved to the cusp of the top five after an outstanding performance against top team Melville – winning 6.8 (44) to 2.9 (21).
The Beach sits in seventh position on the ladder, equal on points with fifth-placed Kalamunda, and just one game adrift of second-placed Piara Waters.
They are playing some quality football and were 'on' from the outset, the likes of Joel Gray, Mitch Clarke and Paul Clark, all of whom have been central to the team's rise in recent weeks, continued their good form.
As well, Brad Weir, Jacob Willis, Flynn Rose and Reef Samuels wielded a strong influence.
Results
Hybrid Linings D1-Grade
North Beach      3.2         5.4         9.8         15.12    102
Wembley           0.0         1.0         3.0           5.1         31
Goals – North Beach: Hughes 6; Duncan, Hall 2; DeRosa, C O'Connell, Dunjey, Zehnder, Alco.
Best – North Beach: Hughes, Dunjey, Desmond, C O'Connell, E Dwyer, Dunjey.
Coast to Coast Imports D1-Reserves
North Beach def Wembley (forfeit)
Indi Bar Brett Jones Colts
North Beach      4.4         8.7         11.13    16.17    113
Collegians          1.0         2.0           3.1         3.1         19
Goals – North Beach: R Irvine, M Rollo 3; Spencer, Tobin, Lewis 2; McNeill, Paddick, Thompson, Blackburn.
Best – North Beach: Passmore-Bush, Roberts, Thompson, Hodge, Lewis Coghlan, Craig.
Beyond Tools E1-Grade
West Coast         4.0         5.4         8.8         10.9       69
North Beach      2.3         4.6         6.6         8.9        57
Goals – North Beach: Golding 2; Bowden, Orr-Young, Evans, Hunter, Rollo, S Clarke.
Best – North Beach: Hunter, Green, Shepley, Sadler, Tait, S Clarke.
GJ Osplumb E3-Grade
North Beach 6.8 (44) def Melville 2.9 (21)
Goals – North Beach: Winterton, Angelev, Van dyke, M Clark, Iddiard, Clarke.
Best – North Beach: Gray, M Clark, Weir, P Clarke, Willis, Rose, Samuels.