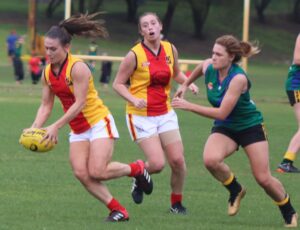 For the second successive week the Galleria Toyota A-Grade women confronted one the competition trendsetters and for the second time lost an engrossing arm wrestle.
While the results was disappointing against Curtin Wesley on Saturday – after losing to University seven days earlier – there was still plenty of reason for optimism.
Played at South Oval, the Beach made an encouraging start, kicking an early goal, but they could not add to that major, courtesy of Sarah Ford, for the remainder of the game.
As the game progressed the Curtin midfield proved too strong and consistently pumped the ball into their forward line and eventually won 1.11 (17) to 1.0 (6).
Under intense pressure, the North Beach defence was held together by Emily Sainty who did an amazing job at full back.  She stopped so many goal opportunities and her kicking out from goal was long and direct.  Stephanie Ball was strong around the ball and won many contested possessions.
Tessa Anderson put in another strong performance in the midfield, Jenny Harris was the leading ruck, having to contend with a number tall rivals from Curtin.
The return of Ash Pianto was most welcome, with her aggressive attack on the ball and strong tackling a feature.  Peri Hawks returned to form and was a rock across half-back.
The highlight of the weekend was the performance of the Grange Residential Integrated Rules team that won their first game since formation three years ago – beating Wembley 8.12 (60) to 5.5 (35).
The Beach started strongly and did not let up all day. Goal front accuracy was off in the first half with the slippery conditions, but the team slotted through some telling goals in the third quarter to establish a good lead that was maintained in the last.
The development of link up play through the corridor was the most pleasing aspect of the game as the Beach managed to put together high numbers of possession movements down the ground.
The back line stood up terrifically well and worked as a unit to hold back some strong Wembley attack through the day. Mailey Kelly and Julian Miller were outstanding in the forward line, kicking three goals each while new recruit Harry Corbett slotted through a great goal in an exciting display from him.
Ben Morley, who was impassable at centre half back and provided much of the thrust for the forward line. Jake Parotte was magnificent and disciplined in the ruck all day as was Chris Johns-Willers in the middle.
Other notable efforts came from Sam Rowan and Nick Hart, who were captains for the day, and led from the front.