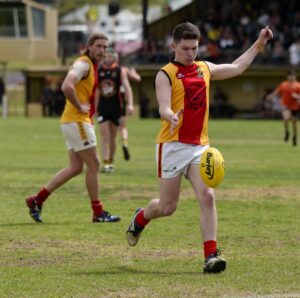 Venturing into the unknown proved a stimulant for the Hybrid Lings C5-Grade when they drove to unfamiliar territory south of the river last Saturday.
Generally North Beach is acutely aware of their opponents, confronting regular teams from one year to the next. But Baldivis at Baldivis was a new experience.
And they relished it.
Taking no time to adjust to a narrow and short ground, the Beach went on a goal-scoring rollick, on their way to a 118-point triumph – 24.11 (155) to 6.1 (37).
Sam Zehnder was outstanding at full-forward with 8.1, while Jordan Brooks was also dangerous every time the ball went forward and he kicked five goals.
The speed of Callum Corbett was a factor in his four goals while through the midfield Riley Hinkley and Tom DeCourtenay controlled the ruck and fed the young midfield in Jayden Black, Jack Stevens, Connor Pollard and Mitch Tobin.
Craig Hall led from the front as always and Isaac Seidner was eye-catching on his wing. Luke Hopkins was swung on to one of the big forwards and did a very good job in shutting him down, after he had been threatening early.
The Beast Carpet Cleaning C5-Reserves enjoyed an even more dominant performance, winning by a whopping 165 points 18.15 (183) to 3.0 (18).
Clearly, with that scoreline, the Beach won every position on the ground and with a flood of football inside the attacking 50 metre arc, the likes of Mitch Cameron (eight goals), Conor Hingston and Vaughan Quinlan, who also kicked nine between them, were always going to punish the opposition.
Sam Cahill, Alex Luck and Brendan Bowden also wielded a strong influence with Nathan Torre and Mason Lawrence.
Meanwhile, back in the northern suburbs, the Indian Ocean Hotel Brett Jones Colts did as much damage to their own cause as University when the Scholars scored an important 15-point victory.
The Beach were highly competitive against the competition benchmark but conceded an inordinately high level of 50 metre penalties and paid the price. After starting well, the Tigers hindered their quest for victory on the way to a 6.10 (46) to 9.7 (51) loss.
Charlie Cortese took a great "hanga" while Conor Ougan, Josh Murphy and Cale Vladich were strong contributors.
The Beyond Tools E2-Grade engaged in an absorbing battle at Charles Riley Reserve, but a poor third quarter made their task challenging. They had momentum in the final term, but fell a goal short against Lynwood-Ferndale.
Players like Callan Dunjey, Daniel Ball and Donal Ryan set a high bench mark early in the contest and they were just a goal down at the main break.
Scoring just one behind in the third quarter proved decisive, while Aaron Franklin and Fletcher Cook were also working hard. The Beach came home hard, but could not bridge the gap, losing by six points – 7.7 (49) to 6.7 (43).
Earlier the GJ Osplumb E3-Grade gave a spirited display against Ocean Ridge, the final margin of 29 points in no way reflecting the competitive nature of the game.
The Beach paid a price for goal-front inaccuracy, losing 12.2 (74) to 4.11 (35).
Once the result was settled it also blew out a little with Ocean Ridge kicking a few goals in the dying minutes.
Jack Lazenby and Mark Kouroulis were lively through the midfield while athletic big man Brandon Ingleby was constantly under notice and defensively Mason Procak, Braydon O'Connell and Cameron Emery provided strong rebound.
Results
Hybrid Linings C5-Grade
North Beach       5.3          8.5          15.10     24.11     155
Baldivis                 1.1          4.1            4.1          6.1          37
Goals – North Beach: Zehnder 8; Brooks 5; Corbett 4; Hall 2; Tobin, Pollard, Stevens, Rollo, Dolling.
Best – North Beach: Zehnder, Brooks, Corbett, Hall, Seidner, Stevens.
Beast Carpet Cleaning C5-Reserves
North Beach       7.1          15.6        22.10     28.15     183
Baldivis                 2.0          2.0         3.0           3.0          18
Goals – North Beach: M Cameron 7; Hingston 5; Quinlan 4; Bowden, Cahill 3; Persichitti, McAuliffe 2; Luck, Raynor, Lawrence.
Best – North Beach: M Cameron, Cahill, Hingston, Lawrence, Torre, Quinlan.
Indian Ocean Hotel Brett Jones Colts
University           1.3          5.5          8.7          9.7          61
North Beach       3.1          3.3          6.8          6.10        46
Goals – North Beach: McLeod 2; Craig, Cameron, Mortimer.
Best – North Beach: Murphy, Ougan, Vladich.
Beyond Tools E2-Grade
Lyn-Ferndale     3.1          4.4          6.6          7.7          49
North Beach       1.2          3.4          3.5          6.7          43
Goals – North Beach: Wickstein 2; Smith, Dunjey, Ryan, Fullarton.
Best – North Beach: Dunjey, Franklin, Ryan, Cooke, Ferguson, Ball
GJ Osplumb E3-Grade
Ocean Ridge       3.2          5.2          7.2          12.2        74
North Beach       2.2          2.2          4.5          4.11       35
Goals – North Beach: Martland 2; O'Connell, Dunkley.
Best – North Beach: Lazenby, M Kouroulis, Ingleby, O'Connell, Procak, Clarke.