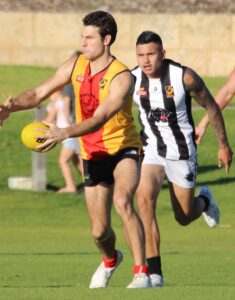 Timing is everything, they say.
And for the O'Rourke Realty A-Grade team running into University, arguably in the hottest form of any team in the competition, last Saturday was far from an ideal alignment of the planets.
The Scholars had Matt Davies and Nicholas Winmar in great touch and their vast WAFL experience was a key factor in University hammering home the advantage on the way to a resounding 71-point victory – 15.10 (100) to 4.5 (29).
The Beach were on the back foot from the outset and although they worked hard they found it difficult to counter the class of the opposition.
Luke Symonds was resolute in defence, Andrew McGuinness was workmanlike in attack, kicking two goals, and Dylan Campbell gave all he had, but it was a battle against the odds.
With a number of players unavailable through injury and taking advantage of the University break, the club's depth was tested.
Despite the player drain, the Lifenet A-Reserves held off a fast-finishing University to maintain their unbeaten run of 11 wins from 11 matches.
In a low-scoring encounter, the Beach held on to win 5.10 (40) to 5.9 (39) after leading by a couple of goals for most of the day.
Veteran Ben Sweeny, key defender Jarrod Chapman, forward Sean Foley and ruckman Tom DeCourtenay led the charge while Michael Schofield, Peter Hiotis and Nathan Torre were also exceptional.
The Plasterwise Phil Scott Colts faced the sternest test available in the under age competition and despite leaving without four points, would have been buoyed by the performance.
The Beach had the better of the balance of play in the first half, but did not take advantage of their control and eventually University responded and scored heavily in the last quarter on the way to winning 9.5 (59) to 6.4 (40).
Scores were level at three-quarter time, but four goals to one in the last term sealed the result.
Jack Davidson and Jack Merson set the standard, particularly in the early going, while Judd Clinch and Connor Boylan also led from the front and Caiden Eaton continued his good form up forward.
Results
Round 11
O'Rourke Realty A-Grade
University           4.5         6.5         11.7       15.10    100
North Beach      0.2         2.3           2.5         4.5         29
Goals – North Beach: McGuinness 2; Webster, Leishman.
Best – North Beach: Symonds, McGuinness, Campbell.
Lifenet A-Reserves
North Beach      2.4         3.6         4.9         5.10       40
University           0.1         2.3         3.4         5.9         39
Goals – North Beach: Foley, Foreman, Adler, M Cameron, Sweeny.
Best – North Beach: Sweeny, J Chapman, Foley, DeCourtenay, Schofield, Hiotis, Torre.
Plasterwise Phil Scott Colts
University           2.0         3.3         5.4         9.5         59
North Beach      3.1         4.2         5.4         6.4         40
Goals – North Beach: Purser, Eaton 2; Wasley, Burton.
Best – North Beach: Davidson, Merson, Clinch, Boylan, Eaton.