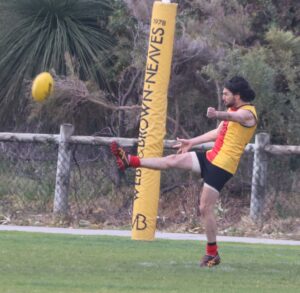 One of the under-stated icons of North Beach, durable utility player Brett Anthony, will become the second player in club history to reach 400 games when he plays for the Beyond Tools E1-Grade against Swan Athletic.
Universally known as BA, typically he would not want any fanfare around his remarkable achievement where he joins another club legend Ian Tester in the most exclusive club within the club.
A wonderful competitor – in the mould of former Claremont and Carlton great Ken Hunter (for those old enough to remember the fearless star of the 80s) – BA has played for 25 years at the Tigers and started with a premiership in the C-Colts.
Disappointingly, while the club marked the past two decades with a string of premierships, BA never played in another – suffering heartbreak again last year when the fifth grade team came up shgort in the grand final.
While BA has not savoured the sweet taste of success himself, he was an integral part of the amazing run of the Beach and while others enjoyed the ecstasy of premierships he was ensconced in the club culture.
When famously another North Beach stalwart referred to the club  as not being about the flags, but the people in the hall he was not doubt referring to people like BA.
And, on a big weekend for the club, another famous name will be honoured, along with a loyal club servant.
Michael Duckworth, son of coaching legend Bill, will play his 200th game when the Hybrid Linings D1-Grade play University at Charles Riley Reserve.
Duckworth, who started in the colts system has played everywhere from A-Grade to thirds and is a heart-on-your-sleeve stalwart, has also endured more than his share of injuries along the way.
An awkward left-footer, he is a fierce team-first competitor, those values undoubtedly instilled in his DNA from one of the hard men of his time.
Paul Cavanagh, another popular club figure, will also rack up his 200th club match. Captain of the Beyond Tools E1-Grade, he has served the club proudly on and off-field, where he served as club secretary for a number of years.
On a day choc-full of milestones, Brennan Irvine and Jordan Webster will play their 100th games when the O'Rourke Realty A-Grade plays North Fremantle at Gil Fraser Reserve and Jordan Mesiti will also raise the bat when he brings up his ton in the same game that Michael Duckworth registers a double century.
FIXTURES
Round 7
O'Rourke Realty A-Grade
North Fremantle v North Beach, Gil Fraser Reserve, 2.30pm
Lifenet A-Reserves
North Fremantle v North Beach, Gil Fraser Reserve, 12.35pm
Plasterwise Phil Scott Colts
North Fremantle v North Beach, Gil Fraser Reserve, 10.40am
Hybrid Linings D1-Grade
North Beach v University, Charles Riley Reserve, 2.30pm
Coast to Coast Imports D1-Reserves
North Beach v University, Charles Riley Reserve, 12.35pm
Indi Bar Brett Jones Colts
North Beach v Swan Athletic, Charles Riley Reserve, 10.40am
Beyond Tools E1-Grade
North Beach v Swan Athletic, Charles Riley Reserve (2), 2.30pm
GJ Osplumb E3-Grade
North Beach v Kalamunda, Charles Riley Reserve (2), 12.35pm
Galleria Toyota A-Grade Women
First semi-final
North Beach v West Coast, Charles Riley Reserve (2) , 10.45am