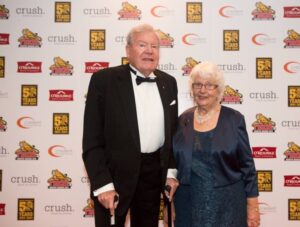 The North Beach Football Club recently lost one of its guiding forces with the passing of long-time patron Jim Clarko.
A well-known figure in local and State Government, Mr Clarko was also a valued ally and supporter of the football club.
He saw the importance of the connection between our club and the broader community and was influential in helping to create the club we know today by protecting its position at Charles Riley Reserve when other organisations might have had plans to infiltrate the precinct.
For more than 40 years the former MLA and City of Stirling Councillor was patron or joint patron (initially with Ray Simpson and more recently with another man synonymous with our club Rory O'Rourke).
Sadly, Mr Clarko had been fighting illness in recent times and he succumbed after a brave battle a couple of weeks ago.
He did not coach the club to A-Grade premierships, he did not excel for North Beach on the field, but he was as influential as any individual in under-pinning the evolution of a club that is today the biggest amateur football club in Australia.
He will be sadly missed, but his imprimatur is indelibly and permanently etched in the history of North Beach Football Club.
Jim Clarko
Joint patron 1976-80 (Ray Simpson)
Patron 1980-1999
Joint patron 2000-2019 (Rory O'Rourke)
City of Stirling Councillor 1976-80
MLA 1981-2008