Inspired by recounted experiences of Australian war veterans, the O'Rourke Realty North Beach A-Grade scored an emphatic 46-point victory over University at Charles Riley Reserve last Saturday.
The relationship between the football club and the North Beach sub-branch of the RSL has been building over the years, but planned ANZAC Day commemorations have not been able to proceed in the last two seasons through the intervention of COVID-19 lock-downs.
With the annual Vietnam Veterans day on August 18 (this years is the 55th anniversary of the Battle of Long Tan), a number of RSL members were in the rooms pre-game as part of the build-up to the  match.
With No.1 ticketholder Graham Edwards at the fore – with sub-branch president John Rolfe – the players were captivated by the tales detailing the courage of Australian soldiers against overwhelming odds at Long Tan.
With those thoughts at front of mind, the Beach dominated from the outset and had they been a little more efficient in front of goals in the first half the result could have been beyond University's reach at the main break.
They got better reward for effort in the second half on the way to winning 13.14 (92) to 7.4 (46).
Midfield trojan Mitch Gill was outstanding in a dominant display while Lachlan Scurria produced possibly his best game at A-Grade level, so much so that they were unable to be separated for best on ground honours and the RSL Medal.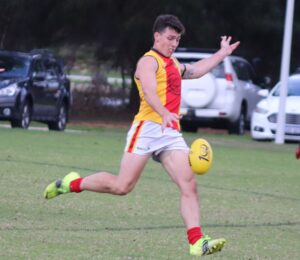 Messers Edwards, Rolfe and coach Shane Paap consulted on the award and they could not be split, on the criteria so important in battle – courage, integrity and mateship.
Captain Mitch Dwyer was also a significant force, while Hamish Coulton and Luke Symonds were import in defence, Tom Hooper excelled in the ruck and both Steve Mansfield and Dan Leishman played with endeavour and commitment through the middle.
The Lifenet A-Reserves maintained their unbeaten record for the season with another emphatic display against the Scholars, again recovering from a sluggish conversion rate in the opening stanza before winning 11.16 (82) to 3.2 (20).
Traditionally University boasts strong depth, but the manner in which the Beach dismissed another top five side could hardly have been more impressive.
Nathan Adler and Ben Johnson continue to provide headaches for opposition defence, kicking seven goals between them while Connor Boylan set aside the disappointment of losing his spot in the A-Grade unit and the Chapman brothers, Josh in the ruck and Jarrod in defence, were again outstanding.
James Canty, Tim Edwards, Chris Wells and Jordan Webster have put together a strong body of form and built on that by maintaining their standards.
The Plasterwise Phil Scott Colts found top team University a little too slick, going down by 30 points – although had they not been affected by the same affliction as the senior teams in front of goals – the margin could have been significantly less.
After consecutive losses to Trinity Aquinas and University, the Beach has slid to fourth, meaning they will play in an elimination final regardless of the outcome this Saturday against Collegians.
Egan Brooks, Kobi Martin, Chris Papadopoulos and James Cameron were all strong contributors for the Beach.
While sudden death awaits them in the finals series they know they have the capacity to challenge those above them in what looms as an intriguing premiership race.
Results, Saturday August 14
O'Rourke Realty A-Grade
North Beach       2.1          6.7          9.12        13.14     92
University           2.1          5.2          6.4          7.4         46
Goals – North Beach: Gill 5; Mackenzie 2; Hoskins, Mansfield, Lamont, Lucassen, Garcia, McGuinness.
Best – North Beach: Gill, Scurria, Coulton, Symonds, M Dwyer, Hooper, Leishman, Mansfield.
Lifenet A-Reserves
North Beach       2.9          3.11        7.15        11.16     82
University           1.0          1.0         1.1            3.2       20
Goals – North Beach: Adler 4; Johnson 3; Webster 2; O'Connell, Swain.
Best – North Beach: Adler, Boylan, Webster, Josh Chapman, Jarrod Chapman, Canty, C Wells, Johnson, Edwards.
Plasterwise Phil Scott Colts
University           1.1          5.2          7.6          9.8          62
North Beach       1.1          2.3          3.4          4.8          32
Goals – North Beach: Perry 2; Cameron, Cooper.
Best – North Beach: Brooks, Martin, Papadopoulos, Cameron, Coleman.