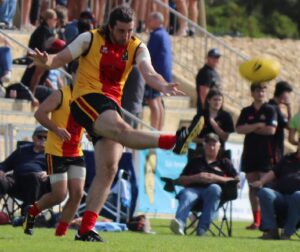 This abbreviated season means that every loss hurts a little more than usual. Conversely, wins are even more precious.
The 2020 season has been cut by 50 percent – nine qualifying games as opposed to the regular 18 in a normal year – meaning the value of a win is commensurate with the value of the Aussie dollar against the English pound.
So the O'Rourke Realty A-Grade was stung by a sub-par performance against Curtin University-Wesley in a clash of two undefeated teams last Saturday.
The coaches and players can't afford to dwell on that loss, it's a question of quickly hitting the re-set button and getting on with the next game.
And that is the challenge against Kingsley at Kingsley Reserve tomorrow.
The Beach will welcome back a cluster of important players, including rebounding defender Daniel Leishman, midfield general Andrew McGuinness, hard nut Steve Mansfield and experienced defender Christian Bottechia.
Leishman was unavailable last week because of a family matter while McGuinness and Mansfield are resuming from brief injury interruptions. Bottechia played his first game of the season in the Lifenet A-Reserves last week and was instrumental in guiding them over the line with the opposition surging in the dying minutes.
That cool head will be a welcome addition to the A-Grade backline.
The A-Reserves, meantime, will strive to keep their unbeaten record intact while the Plasterwise Phil Scott Colts will aim to rebound after consecutive losses – including a last second heartbreak against Wesley last Saturday.
After controlling the game for the majority of it, that loss stung and they will be looking to respond.
The Beyond Tools C5-Grade and the GJ Osplumb C5-Reserves will play top teams Forrestdale in their respective games at Charles Riley Reserve while the Grange Residential I-Grade play Kingsway at Kingsway Reserve.
Unfortunately, the club's two women's teams face road trips – the Project Ceilings A-Grade heading to Winnacott while the Peak Body Fitness C3-Grade play Hills Rangers.
The Hybrid Linings C4-Grade, Coast to Coast Imports C5-Reserves and the Indian Ocean Hotel Brett Jones Colts all have a bye
Fixtures
O'Rourke Realty A-Grade
Kingsley v North Beach, Kingsley Reserve, 2.45pm
Lifenet A-Reserves
Kingsley v North Beach, Kingsley Reserve, 1.05pm
Plasterwise Phil Scott Colts
Kingsley v North Beach, Kingsley Reserve, 11.25am
Beyond Tools C4-Grade
North Beach v Forrestdale, Charles Riley Reserve, 2.45pm
GJ Osplumb C4-Reserves
North Beach v Forrestdale, Charles Riley Reserve, 2.45pm
Project Ceilings A-Grade Women
Winnacott v North Beach, Winnacott Reserve, 9.50am
Peak Body C-3 Women
Hills Rangers v North Beach, Brown Park, 11.30am
Grange Residential I-Grade
Kingsway v North Beach, Kingsway Reserve, 11.15am
Byes
Hybrid Linings C5-Grade
Coast to Coast Imports C5-Reserves
Indian Ocean Hotel Brett Jones Colts