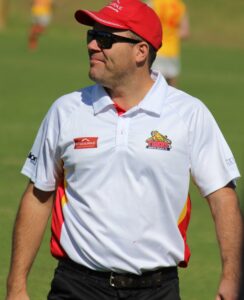 List all the things you like about playing footy…mateship, fun, unity, staying fit. Yeah, they're all nice by-products of the team environment, but there's one factor that drives most to participate.
It's called success. Winning.
And five North Beach teams are within arm's reach of the very definition of it. Three of them closer than the other two, but all on the cusp of realising the ultimate purpose of why they have committed the last six to eight months to playing footy.
The Hybrid Linings D1-Grade, Coast to Coast Imports D1-Reserves and  GJ Osplumb E3-Grade all play preliminary finals, each of them looking to advance to the big dance.
The Lifenet A-Reserves, who enjoyed a week off after finishing on top of the table, will look to make a fourth consecutive grand final when they play in the second semi-final against University while the Plasterwise Phil Scott Colts will play a knock-out first semi-final against Wanneroo.
Clearly the stakes have been raised and nervous energy will manifest itself in the stomachs of the combatants. Butterflies are a natural occurrence before a big game, whether that's at the MCG or the local community club, in front of friends and relatives.
The third and fourth grades will be on show at Fremantle Park when they play Fremantle CBC and University respectively. Both games promise to be tense and tight and the team that handles the occasion best will advance.
The sixth grade will play Melville at Tempest Park and for the third week in succession play a knock-out final. They have shown resilience, poise and class in this tough finals run and will look to replicate it against a quality opponent.
The A-Reserves, shooting for a third consecutive premiership, will again show-case  the abundance of young talent within the club's ranks, a number of them falling back to play having had a taste of senior football this season.
They lost just one match during the regular season and have generally responded to the challenge of playing the better teams in the competition.
The Phil Scott Colts have stuttered recently, with a final round loss and then a second semi-final defeat last week, but they have class and capability of a strong response.
Coincidentally, they confront Wanneroo, who beat them in the last qualifying game so have full knowledge of what the opposition will bring.
Fixtures
Saturday, September 7
Lifenet A-Reserves
Second Semi-Final
North Beach v University, Millington Reserve, 12.35pm
Plasterwise Phil Scott Colts
First Semi-Final
North Beach v Wanneroo, Morris Buzzacott Reserve, 10.40am
Hybrid Lings D1-Grade
Preliminary Final
Fremantle CBC v North Beach, Fremantle Park, 2.30pm
Coast to Coast Imports D1-Reserves
Preliminary Final
North Beach v University, Fremantle Park 12.35pm
GJ Osplumb E3-Grade
Preliminary Final
North Beach v Melville, Tempest Park, 12.35pm