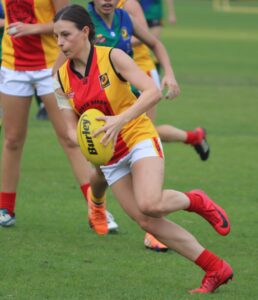 The Galleria Toyota A-Grade women enter their second finals series with momentum after perhaps their most impressive performance of the year in the last qualifying game.
After a dearth of goals in the previous month, the Beach suddenly clicked and found a plethora of majors against Kingsley last Saturday, winning 14.12 (96) to 2.1 (13).
Considering how sparse goals were in previous weeks, that represents better than 1.5 points per minute in their hour-long contest.
Sarah Cosoleto, one of the most consistent players across the season, cashed in with five goals, while Lexi Lindsay and Irene Chiari also hit the scoreboard hard, capitalising on a dominant midfield, led by Sarah Ford and Tessa Anderson.
Shelby Maher consistently gave her teammates  first use of the ball, while in defence the mainstays were again Ellen Duncan, Taylisha Brown, Emily Sainty and Hannah Campbell who not only cut off Cats attacking moves, but then were dangerous on the counter attack.
They will kick off the club's finals assault when they host West Coast at Charles Riley Reserve (2) on Saturday.
The Grange Residential Integrated Rules team wound up their season when lost to the vastly experienced Willetton.
The last game of the year was a tough one for the North Beach Tigers!
Willetton were exceptional with  their ball use and had a set up through the spine that was well drilled and effective.   The use of positioned players on the wing and at the ball ups gave them targets and structure that we struggled to cover.
As always the effort for North Beach was un questionable and players that had shown improvements in previous weeks continued to develop and show signs of positive things to come for next year.
Lily, in her first game back for a while, managed to put through a super goal and Benny Pieters continued his recent good form with another.   First year player Connor slotted another to round off a great year for the Tigers.