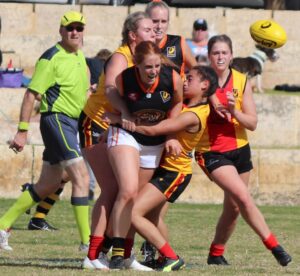 The women's competition is in  its infancy, but there is little question that Curtin University-Wesley have set the bar in the two-and-a-half seasons it has been in operation.
The Tigers won the premiership last season and it was something of a shock that University knocked them over in the inaugural season of 2018.
They have a strong program, wonderful depth and ventured to Charles Riley Reserve last Saturday as the undefeated pilot at the top of the premiership table.
For the Project Ceilings A-Grade North Beach outfit it always loomed as a significant challenge in a year that has thrown up plenty of hurdles.
But the Beach wom,en went into the contest with a strong sense of we 'can do this'. The belief and energy was high and it created an absorbing contest.
The tenacious Beach went down by two goals, a margin that might have been a little different had officials heard the half-time bell before Curtin Uni kicked an important pressure-relieving goal ahead of the main break.
In the end Wesley endured 4.7 (31) to 3.1 (19) but the North Beach players could take pride in their performance.
With some debutants in the side, they were far from over-whelmed by their more fancied rivals,  evidenced by the Curtin Uni coach highlighting at the end of the game that they did not expect the level of resistance witnessed.
Emily Sainty was again outstanding in the ruck, competing against a national volleyballer all day, the general down back, Kellie Holden, was steadfast, Clarissa Power played her best game all year and Tessa Anderson continued to deliver 100% out of the middle.
Resources have been stretched with the ambitious plan to field two teams, but again the Peak Body Fitness C3-Grade showed great tenacity in flying the club flag against Wanneroo.
Kaitlin Koh, Taylah McGorlick and Yasmin O'Connor led from the front against the odds before falling 11.5 (71) to 0.2 (2) to the  vastly more experienced Roos.
Project Ceilings A-Grade Women
Curtin University-Wesley 4.7 (31) def North Beach 3.1 (19)
Best – North Beach: Sainty, Anderson, Holden, Power.
Peak Body Fitness C3-Grade Women
Wanneroo 11.5 (71) def North Beach 0.2 (2)
Best – North Beach: Koh, Laycock, McGorlick, O'Connor, Evans.