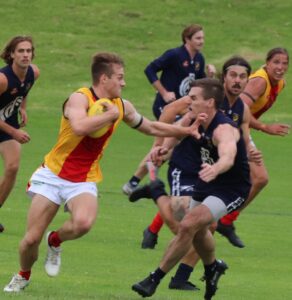 It was in the middle of the third quarter on Saturday at Dalkeith Oval and the ball went through the hands of three emerging North Beach players.
Jack McIntosh gathered between half-back and wing, kicked it to Oskar Tothill, who then found Shannon Lucassen. It was the most satisfying aspect of a satisfying day for the O'Rourke Realty A-Grade against Collegians.
There was an expectation the Beach would win, but it was more about how that victory might be achieved. And the performances of those three players, in addition to Lachlan Scurria, Dylan Brockbernd and Matt Murray was as much a reason to be excited as a convincing 70-point win.
All played their role in a victory that was never in doubt, the verve and energy of the Beach – combined with a significant dose of class – saw the ladder leaders maintain their unbeaten record with a 15.16 (106) to 5.6 (36).
A perfectionist might have wanted a bigger margin, more commensurate with the dominance in play, but that would be greedy.
The class came from the likes of experienced campaigners James Garcia, Dan Leishman, Andrew McGuinness, Ned Halley, Kyle Cranley, Ryan Ekert and Nic Reid, but in reality it was a game where virtually every North Beach player won their position.
It was a similar tale in the Lifenet A-Reserves who coasted to a similar victory – 17.9 (111) to 6.4 (40) – as they took greater advantage of scoring opportunities.
Players were thrust into varying roles, but experienced players like Dion Cownie, Tim Edwards and Beau Witheridge through the midfield, Liam Catalfamo across half-back and Nathan Adler and Ben Johnson up forward caused all manner of angst for the Blues.
Nick and Chris Wells, Jackson Martino, George McColgan and Alex Thomspon were also strong contributors, while Jordan Webster finished off some good work with three goals.
To be fair, it would be possible to go through the entire team list and suggest each of the North Beach players contributed in a game that was one-sided.
The Plasterwise Phil Scott Colts were expected to confront the biggest challenge and that proved the case as they were out-played by Collegians, particularly in the first half.
There were several mature young men in the Collegians line-up and it didn't help running into them on a day when the WAFL had a bye. Several fringe Claremont players drifted back, among them Zac Mainwaring, who proved a handful when he kicked a handful of goals.
The Beach, however, chipped away and were far more competitive after the main break with players like Kobi Martin, Justin Prior, Codi Sawyer and Rhys Irvine doing all they could top inspire their teammates.
Details
O'Rourke Realty A-Grade
North Beach       3.4          7.10        11.14     15.16     106
Collegians            2.1          2.2           2.4          5.6          36
Goals – North Beach: Ekert 4; Lucassen, Brockbernd, Gill 2; Lamont, Scurria, Garcia, Tothill, Leishman.
Best – North Beach: Garcia, Leishman, Ekert, McIntosh, Halley, Reid, McGuinness, Gill.
Lifenet A-Reserves
North Beach       4.2          9.4          15.7        17.9        111
Collegians            3.1          4.2            4.3          6.4          40
Goals – North Beach: C Wells, Webster, Adler 3; Edwards, Johnson 2; Catalfamo, Swain, Cownie, Wells.
Best – North Beach: Cownie, Catalfamo, Adler, Edwards, Martino, Witheridge.
Plasterwise Phil Scott Colts
Collegians            4.2          8.4          9.11        10.15     75
North Beach       1.1          1.2          2.2            4.4        28
Goals – North Beach: McAdam 2; O'Shea, Sawyer.
Best – North Beach: Martin, Prior, Sawyer, Irvine, Coleman, Rose.